[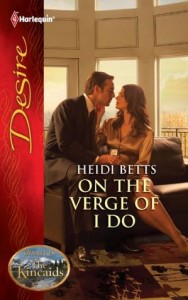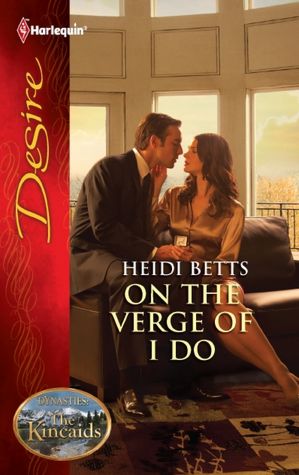 *Bonus points to anyone who can identify that quote. :winkwink ]
So last week, I escaped from The Dungeon long enough to do two guest blogs for my brand new Harlequin Desire release, ON THE VERGE OF I DO—a Cyber Launch Party at AuthorIsland & an interview at Get Lost in a Story.
Sadly, neither went particularly well because both sites are run by Blogger, & Blogger hates me.  Not just a little bit, either; I mean, Blogger really despises
me.  No matter what I do or how hard I try, I cannot comment on Blogger-run websites.  (From now on, I should only accept invitaions from WordPress blogs. :moon )
But I feel badly that readers dropped by to chat about ON THE VERGE OF I DO, but never got their questions answered.  So I'm going to do a bit of cutting & pasting & try to answer them here! :twirl
Do I have to read the first three books in the Kincaid Dynasty series?
Absolutely not.  There are characters & storylines that are carried all the way through the series, & that can be fun for readers who enjoy the whole "Dynasties"/saga-type thing.  But if you just want to pick up a book & read it, then be left alone, ON THE VERGE OF I DO (& the other books in the series, I believe) stands perfectly well on its own.  It is very much the love story of Eli Houghton & Kara Kincaid, but with some details about other characters & an ongoing plotline thrown in to make the series a bigger, more encompassing kind of thing.
How did you decide what job to select for the heroine?
Since ON THE VERGE OF I DO is part of Harlequin Desire's "Dynasties:  The Kincaids" continuity series, I didn't actually choose the heroine's occupation this time around.  For continuities, the editors pre-plot the storylines & characters before the authors become involved, so by the time I jumped on board, Kara was already an event planner & Eli was already a successful hotelier—engaged to Kara's sister.
I'm wondering if your Darling Dwayne "The Rock" Johnson can portray
Eli in a movie.
As much as I would love to see my Daring Dwayne in the movie version of any & all of my books, he & Eli don't really have much in common, especially in the looks department.  Personally, I picture Eli as more of a Patrick Dempsey type…but I'd love to hear who readers would cast in the role!
U of L or Kentucky? Answer wisely Heidi! Your "first" gut feeling is the best to go with.
I'm actually going to plead the Fifth on this one, refusing to answer on the grounds that it might incriminate me…or tick off readers who are fans of whichever I don't pick. :dropmouth
I love your books they—they are funny and have a lot of hunks and romance!  How do you come up with your characters?
Thank you so much!  Funny + lots of hunks & romance is exactly what I aim for! :thumbsup   As I mentioned above, I didn't come up with the characters for ON THE VERGE OF I DO; they were already mapped out for me—at least in a general sense—when I was handed the continuity bible.  But I did Heidi-ize them, of course, to make them truly my own.
And for other characters, it really depends on the story.  Sometimes, characters pop into my head full-blown, just waiting for me to tell their story…& being none too shy about telling me how to do it, either.  Other times, I get the story idea first & have to decide what type of characters the hero & heroine would be, then build from there.
(Doubling up here, because my answer to both questions is basically the same.)
I'm so super excited to read this book. Most of us already know it's going to be a huge hit, so what are you going to write for us next?
So my question is what's next? I know you just finished this one – but with the amount of time it takes to go from finished manuscript to launch gives some time to go on to the next.
Well, in September, Kensington Brava is reissuing my sexy, funny vampires-in-Las Vegas paranormal romance MUST LOVE VAMPIRES in mass market paperback, which is exciting.  It's even getting a brand new cover treatment! :peekaboo
Then in November, I'll have another Harlequin Desire out.  That's the one I just finished…literally just delivered it to my editor yesterday. :jumping   I'm very excited about it, too.  It's got a little bit of everything—mistaken identity, secrets & lies, a secret baby, revenge…  Whew.  So much fun to write.
And after that…  I'm not quite sure yet, we'll have to see. :Huh
Do you have any stories locked away that you are thinking about looking at again to work on?
Oh…always. LOL  There's always some idea or some half-written manuscript that I'd love to revisit, but I've been kept so busy with new projects that so far I haven't had time to dig any of them out.  One of these days, maybe… :runrun
Do you have a favorite genre?
Of reading or writing?  Either way, I suspect the answer would be that I pretty much love everything.  As long as it's romance, I'd probably be happy to read it or write it.
Is there a genre you would not consider writing?
Chances are, you won't catch me writing romantic suspense.  I absolutely love to read it (you have no idea how much :kitty ) but it's not something I think I could write well.  Like, if I knew who the bad guy was, within about ten pages, you would, too. :rolf

Is there a particular romantic theme that you haven't written about yet that you'd love to do?
Hmm.  That's a good question, & I honestly don't know.  I guess I don't think much about theme when it comes to writing.  I just like to tell good, fun stories & sort of go with whatever theme works best for a particular book to get the job done.  Maybe I should pay a little more attention from now on & see if anything crops up. :winkwink
What's the hardest lesson you've had to learn over the years as a writer?
Boy, that's a tough one.  There are too many lessons to learn as a writer, I'm sorry to say. :sick   One that comes readily to mind is that the more books you write & the more successful you become, the less time you have to write.  Just writing the books turns into writing, marketing, blogging, promotion…  Don't get me wrong—the promotional aspect of the job is sometimes the most fun. :twirl   And it's certainly necessary, but it does take time away from the writing.  And the more advanced technology becomes, the more seems to crop up—simply having a website becomes needing to have a website & a blog (not that I'm knocking my blog…I  :heart my blog…& you'd better :heart it, too, or risk facing Mistress Heidi's wrath :whip ); MySpace became Facebook & Twitter & Google+ & Pinterest…  If only we could get paid to tweet all day, huh? :peekaboo

I've gotten hooked on Heidi's blog and would love to know where she comes up with the madness that she puts out every day.
:muahaha  Ancient Chinese Secret.  No, wait—I could tell you, but then I'd have to kill you.  Yeah, that's it. :whip
It's not always easy, but basically, I just like to have fun & figure if you enjoy my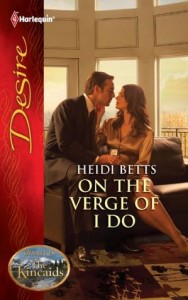 books, you'll enjoy my quirky (silly? bizarre? scary? :dropmouth ) sense of humor.  So I just post stuff that I find amusing & hope you do, too. :moon
I hope that's everything.  And remember, I was giving books away at each of the guest blogs, too, & those announcements will be handled by the respective sites, so be sure to check back to see if you won.
*P.S.  Here's the answer to the bonus question at the top of this post, in case you haven't figured it out yet:
Comments
13 Comments • Comments Feed