Ahhh. Do you have any idea how long I've waited to say that? (Again.)
But, yes, it's true—we are finally back to a real Dungeon that Mistress Heidi can truly feel at home in, as well as a wonderful new look for all of HeidiBetts.com.

So what do you think?  Gorgeous, right?  We have the very talented Jeannie Ruesch of Will Design for Chocolate to thank for that, believe me.  She took my handful of ideas & requests & made them about a thousand times better than I ever could have imagined.
And she's not finished yet!  This is still very much a work in progress, with tweaks & alterations left to be made, so please bear with us while we get everything right where we want it.  When it's finished, though, I think you'll agree that it's just fabulous & is going to be such a fun place to hang out.
Today is also the second official release day for THE BITE BEFORE CHRISTMAS.  If you haven't already bought or ordered your copy, be sure to do so this weekend when you're out & about.  And if your favorite bookstore doesn't have BITE in stock, ask them to order one for you…along with a few extra for the shelves. 😉
By the way, I owe a small apology to any Kindle owners who may have dropped by Tuesday to celebrate THE BITE BEFORE CHRISTMAS's first official release day.  You see, I mentioned that you would be able to purchase & download your copy of BITE that very day, but it turns out the Kindle release is actually today, too.  Whoops.  But now you really can buy & download your Kindle Edition, if you like.  Sorry about that. :blush:
I also have to take the opportunity to once again push my "Fang-tastic Vampire Swag Bag Giveaway."  All you have to do to enter is help me rebuild my mailing list (which was completely wiped out over the summer 😥 ) by signing up for my new Newsletter—either for the first time or again.  Pretty please, with a sprig of mistletoe hanging over your favorite vampire hottie's handsome head. :vampire:
Here are the deets…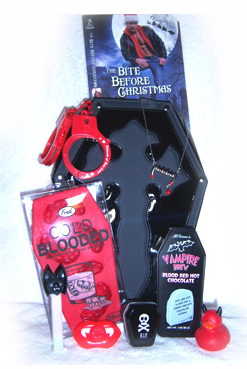 CONTENTS
Demonia patent coffin tote (coolest thing ever—sorry, just sayin' )
bloody fangs necklace (to show the world you don't mind being bitten…by the right tall, dark, and fang-some)
set of sexy red handcuffs (courtesy of Mistress Heidi, of course, but strong enough to keep your vampire lover in line)
rubber Devil Ducky (the unofficial mascot of The Dungeon & Mistress Heidi's favorite pet)
bat Pez dispenser (with Pez candy, of course; you need to keep your strength up when you're dating the undead)
Cold-Blooded ice cube tray (this makes the neatest fang ice cubes for your Bloody Mary!)
Vampire Brew (blood red hot chocolate (a delight for humans & vampires alike—yum!)
coffin tin of Death Mints (for that pesky morning "blood breath" )
a vampire fangs whistle (this could used as either a rape whistle if you're attacked by a bloodthirsty vampire…or to call one, if you're in the mood for a little fang-bangin' )
other (the Halloween season is upon us, after all, & I fully intend to collect even more vamp-tastic goodies to include; updates as they become available)
RULES
To enter, you must sign up for my Newsletter. (And remain subscribed, of course.)  Please use this form to join the mailing list: http://heidibetts.com/newsletter/ (Note:  Even if you think you may already be signed up, please sign up again…a major catastrophe has wiped out all previous subscriptions.)
Contest will run until All Hallow's Eve…or October 30, 2010 for the unenlightened.  Winner to be announced on my WIPs and Chains blog.
U.S. residents only, please.  (For the prize only, because of the high cost of overseas postage rates.  But everyone is welcome to sign up for my Newsletter!)
If the winner doesn't contact me with her mailing information within seven (7) days, another name will be drawn & a new winner announced.
Good luck!

Comments
23 Comments • Comments Feed