As you know, I love quotes.  Funny quotes, serious quotes, quotes taken from television shows & movies…  And every time I'm working on a new book or am anticipating a new book's release, I love to collect any quotes I see or hear that seem appropriate for that story.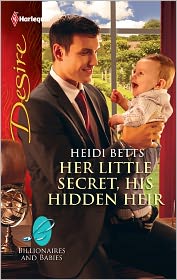 Now, if you've been paying attention, you may have spotted some quotes associaed with HER LITTLE SECRET, HIS HIDDEN HEIR in the WIPs sidebar or posted on Twitter & Facebook.  I do that sometimes to amuse myself, & hopefully to amuse you. :kittylaugh
But what if you missed them?  What if you missed a really good one?  Well, that's why this is my blog…um, I mean, Mistress Heidi's blog…  It means I can post them all together, all over again, for our continued enjoyment.
So here we go…  Quotes that seemed just perfect to me for Marc & Vanessa's story:
"Are you casting asparagus on my cooking?"
~Curly Howard
"There is one thing more exasperating than a wife who can cook and won't and that's a wife who can't cook and will."
~Robert Frost
"My mother was a good recreational cook, but what she basically believed about cooking was that if you worked hard and prospered, someone else would do it for you."
~Nora Ephron
"My mother didn't really cook. But she did make key lime pie, until the day the top of the evaporated milk container accidentally ended up in the pie and she decided cooking took too much concentration."
~William Norwich
"When we no longer have good cooking in the world, we will have no literature, nor high and sharp intelligence, nor friendly gatherings, no social harmony."
~Marie-Antoine Carême
"She did not so much cook as assassinate food."
~Storm Jameson (Margaret)
"I don't believe in low-fat cooking."
~Nigella Lawson
"I don't like food that's too carefully arranged; it makes me think that the chef is spending too much time arranging and not enough time cooking. If I wanted a picture I'd buy a painting."
~Andy Rooney
"Cooking is like love. It should be entered into with abandon or not at all." ~Harriet Van Horne
"I hate coconut. Not the taste, the consistency."
(Zombieland)
"Yeah, but he was juggling the food. And then it went in his hat. And then it came out of his hat. I mean, I've never seen a recipe that included the word 'hat'."
(Monk)
"You can't kill that woman."
"Oh, yes, I can. A poison cookie, just like I tried with Earl a couple years ago. I mean, I still know the recipe—it's just sugar, eggs, & poison."
(My Name is Earl)
"Do not maketh carrot cake. The Lord hates carrot cake—it is the Devil's food! But that doesn't mean don't make devil's food cake—I love that stuff."
(My Name is Earl)
"My mom used to bake all the time. Actually, her maiden name was Baker. I don't know if that's why she baked, but she loved baking."
(The New Adventures of Old Christine)
"Why did I say that? I think frosting makes me lie."
(How I Met Your Mother)
"So that's my problem. You work on that—I'm going to eat this cupcake."
(How I Met Your Mother)
"We only have time to pack the essentials—clothes, medicine, & my grandma's lemon square recipe."
(My Name is Earl)
"I thought I'd surprise him with a batch of freshly baked cookies. That's what Oprah would do."
(New Adventures of Old Christine)
"What did you put in the cookies?"
"Nothing. I'm nice now."
"Yeah. I'm still not eating a cooking till I see you eat one."
(New Adventures of Old Christine)
"Who throws a cupcake? Honestly!"
(Austin Powers in Goldmember)
"Can't we just scrape off the burnt parts?"
"There's nothing but burnt parts!"
(Desperate Housewives)
"Daddy musta been a baker, 'cause that is a great set of buns."
(Bones)
"Oh, I brought this back from the funeral for you. Since you're off sweets. It's a cake-like object made with some sort of prune crap substitute for sugar."
(The Closer)
"Oh. There is no substitute for sugar."
(The Closer)
"It has an ingredient my cakes have never had before—danger."
(Desperate Housewives)
"If I don't handle this delicately, he's bound to go on another caramel binge."
(Psych)
"There is no problem that a muffin cannot solve, from neighborhood conflict to constipation."
(Raising Hope)
"Sneaking around makes everything taste better."
(Desperate Housewives)
"Marge, it's 3 a.m. Shouldn't you be cooking or something?"
(The Simpsons)
What do you think?  Did I miss any?  And which is your favorite—or favorites?
Comments
4 Comments • Comments Feed