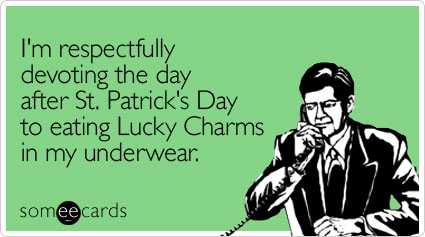 Happy Sunday!
And happy day after St. Patrick's Day!  Are you all awake?  Hung over? Feeling a little…green? :drinkup
Sorry, I couldn't resist. :rolf   But even if you are a little green around the gills :muahaha   I hope you still have plenty to be thankful for this week.
This week, I think the thing I AM HAPPY about most would be finishing the rough draft of my latest Harlequin Desire.  There were some rough moments, especially in the beginning surrounding my surgery…& then trying to wade through a drug-induced fog to get back into the story :sick …but I absolutely fell in love with Alex & Jessica, & love how it all turned out. :jumping
I AM HAPPY, too, that all I have to do now is go back through the entire thing to proof, polish, & maybe do a bit of revision before I can turn it in to Editor C.  Whoo-hoo! :twirl    Of course, I say "all I have to do" as though it's no big thing, when that part of the process is actually one of the biggest things.  But fingers crossed it will go smoothly & easily, & by this time next week I'll be patting myself on the back for my brilliance.
And I AM HAPPY that I actually enjoyed the first episode of ABC's new drama Missing this week.  I wasn't sure I would; it didn't look that great from the previews & I even saw some negative feedback about it on Twitter, but I really like Ashley Judd, so I thought I'd give it a shot.  So glad I did!  It's like the movie Taken—which you all know I love—but with a female protagonist.  And it definitely kept my interest while I was on the Torture Cycle (which isn't easy to do :runrun ).  I'm already looking forward to the next episode & have some early predictions about where things are going with the storyline, especially concerning…  Well, no; can't tell you that or I might ruin it. :winkwink
How about you—what great stuff has been happening in your lives this week?  Or maybe you're looking forward to something that's coming up soon.  Whatever it is, we want you to share!  :peekaboo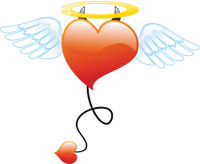 Now to announce the winner of our latest Free Book Friday giveaway—an early autographed copy of my April Harlequin Desire, ON THE VERGE OF I DO, & a beautiful reversible shamrock pendant—glitter green on one side, silver with "Kiss Me" stamped on the other.  (Much prettier than this picture portrays, actually. :winkwink )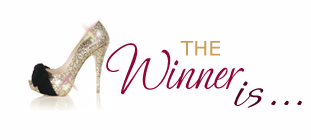 :twirl Donna Wise!!! :twirl
Congratulations, Donna! :thumbsup Please contact me with your mailing information, & I'll get your prizes out to you as soon as I can!
Comments
9 Comments • Comments Feed