I know I've been talking a lot lately about the Top Sekrit project I'm working on.  And it's only Top Sekrit because I hadn't gotten around to announcing the details yet.  But now it's time for the Big Reveal… :peekaboo
A few weeks ago, I got a lovely note from friend & fellow author Lori Foster.  She's putting together yet another benefit book & wanted to know if I'd be willing to write a story for it. :hohoho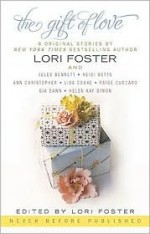 Well, I adore Lori & had a wonderful time participating in The Gift of Love with my novella "SKIN DEEP."  So of course I was all bouncy at the prospect of doing another one. :letitsnow   Yes, yes, I really want to, but…
I had another book due & the deadline for the benefit novella would be really tight.  So I thought it only fair that I speak with my agent & editor before agreeing to anything extra.
Then Lori sweetened the pot.  She said, "Oh.  Did I mention that all of the proceeds for this collection will benefit the AAF?"  AAF being the Animal Adoption Foundation, one of her local no-kill animal shelters.
And you've met me, right? :neener   You know that I would do absolutely anything for an animal.  I mean, I have literally run into traffic to save a dog from getting hit & raced down the middle of a major highway to save a kitten.  How could I not write a sexy, fun romantic novella when A.) it would be a blast & B.)  all of the money would go to save homeless, helpless, needy dogs & cats?
Yeah, she had me at AAF. :happynewyear
But there's still a little thing called protocol, & I felt it was only fair to at least alert my agent & editor that I was veering off course at record speeds.

  And I was very cool & collected about it; I even made it sound like a request.  "Um…Lori asked me to do this favor & it's for a really good cause, so would it be all right with you if I pushed my deadline back & wrote this wee little novella?" :wink   When what I really meant was, "I'm doing it.  I don't care what you say or how badly this is going to screw up your entire universe. I'm doing it!" :steamin   Or something to that effect.
Thankfully, no one was vehemently against it.  Editor C was actually awesomely supportive. :thanksgiving   He knows how much I love animals & was not only willing to move the deadline for my next Harlequin Desire, but remembered a couple of story ideas with animals in them that I'd tossed around once before.  (Ironically, I went with something completely different, but they were a bit of a springboard for the current idea.)  So by the end of the day, it was a total go. :sled
And that's what I've been up to lately—writing the most adorable, sexy little story about a couple I love & animals galore.  I can't wait to get it done & see how it all comes together.
No word on the title of the anthology yet, but I'm calling my novella "GIMME SHELTER" (which will probably be changed before publication, but it's working for me at the moment) & the entire collection is scheduled for digital release in June 2013, just in time for Lori's annual Reader Event.  Then it will be released in paperback the following year.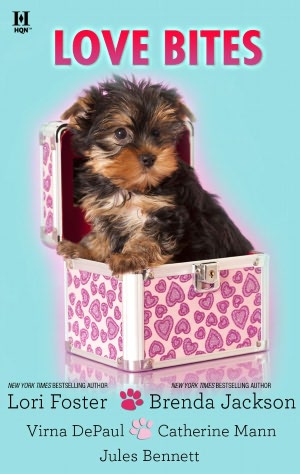 Last but not least, if you haven't bought a copy of Lori's last collection to benefit the AAF—Love Bites—please do so now!  It's only $3.00, & 100% of the author's proceeds go to the shelter, so you can do a lot of good & get an awesome read at the same time!  (I confess, I actually downloaded both the Kindle *&* Nook versions, just to make a double donation. :prettylights )
Comments
15 Comments • Comments Feed