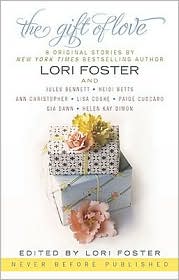 The Gift of Love Anthology (edited by Lori Foster)
Penguin Group/Berkley Trade
ISBNs: 0425234282 / 978-0425234280
June 2010
A heartwarming anthology of all-new stories that celebrate family love, edited by New York Times bestselling author Lori Foster.
Families come in many configurations, and every one is unique, made up of the personalities of each member. But the love that connects families is universal. Whether it is the love of parents for their children, the love between a husband and wife, the love between siblings, a love that transcends generations, or even the love for a family member never met, the family ties that bind us are the strongest and deepest emotional connections we experience. Families influence a person's development, how they treat others, and how they view life. In The Gift of Love, eight exceptional writers offer a variety of unique perspectives on what family love means and how it impacts our lives in ways profound and often surprising.


Where To Buy


QUOTES AND REVIEWS:
On The Gift of Love Anthology: "All of these short stories are about loving, taking a chance, and how love can over come just about anything.  I really enjoyed the romance and look forward to many more anthologies like The Gift of Love.  The authors presenting their work in this collection are donating a portion of the profits to the Conductive Learning Center of Greater Cincinnati, so not only will a beautiful read be in store for you, but you will be helping a great cause when you buy this book." ~Two Lips Reviews
On 'Skin Deep': "This story really makes me believe there is true love that can look past who you are outside to the person within." ~Two Lips Reviews

EXCERPT: