Confession #34:  My mug collection is slightly out of control. :burningwitch:
It's true—I've never met a novelty mug I didn't love.  My penchant tends to be for the nice, big solid ones that aren't easily breakable (because I also tend to be a bit of a klutz, & when they're wet & soapy, bad things tend to happen :skullbones: ) & hold a lot of tea.  And cute; they have to be cute or amuse me in some way. :cheers:
During The Move, I actually sorted through all of my mugs & managed to part willingly with several…& not-so-willingly with a few more.  But there are many, many, many I simply cannot part with.
And to make matters worse, last week I found this adorable Snow White mug at a local thrift shop.  (Don't worry, I scrubbed & Cloroxed it quite well before putting my lips on it. :screamcartoon: )

Come on!  How could I possibly resist? :givemecandy:  It's a Disney Store original…made of nice, thick ceramic…is quite large & holds a lot of tea…  And did I mention it's Disney?  (Another small obsession of mine, depending on the character.)
Of course, it happens to be a zodiac mug, & Virgo is so totally not my sign.  But that didn't keep me from buying it.  Oh, no—I can overlook the incorrect star sign in exchange for simply having a shiny new mug to carry around.  And look at Snow White loving all those little woodland creatures…that is totally me!  The write-up on the back may not be 100% accurate, but it's close enough…& even sort of encouraging. :bloodyeye:
But I will tell you this—if I ever spot a Scorpio Disney mug, I'll definitely grab it.  Because I'm dark & mysterious like Jack Skellington, too. :dracula: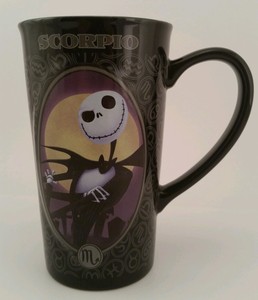 Comments
11 Comments • Comments Feed