I am canceling today's Sexy Fail post to share with you some extremely sad news.  A friend & fellow romance author, Beverly Barton, passed away very suddenly this past week, & I am still in shock.
Those of you who may have met Beverly somewhere along the way know how wonderful she was.  Those of you who never had the privilege, believe me when I tell you that she was the sweetest, kindest woman I think I've ever met.  And that's on top of being an amazingly talented author!
When I was thinking of signing with Agent Extraordinaire, Beverly took the time to chat with me about him, because he was her agent, too.
When I first sold to Harlequin, Beverly told me everything she knew about them, because she'd written for them, too.  (Intimate Moments, Desire, even some single titles.)
When I got the offer from Kensington to write paranormals for Brava, I turned to Beverly because she was also writing for them (her fabulous, bestselling romantic suspenses) & we would soon share Editor B, as well.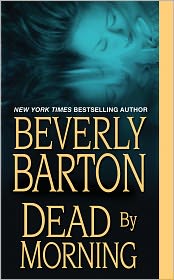 In fact, her newest title with Kensington, Dead by Morning, is scheduled to release on Tuesday, April 26th.
Beverly was just always there, happy to chat & share.
She was also such a bright spot at RWA National every year.  I couldn't wait to see her smiling face & hear that soft Southern drawl of hers.
I still simply cannot believe she's gone.  I can't believe I'm never going to see her again or talk with her again.  And she'll never get the chance to visit us here in The Dungeon—which, yes, was in the works.  She would have been a fabulous guest, too.
The romance community will certainly never be the same without her in it.  But then, neither will the world.
We love you, Beverly.  Rest in peace.
Comments
9 Comments • Comments Feed