Hello, my Darlings!  I'm thrilled to introduce you all to the talented NICHOLE CHRISTOFF today.  I was extremely lucky to receive one of her books (The Kill Box) as an entry last year when I was judging for RWA's RITA Awards.  But even though I had to read it, it actually turned out to be the one book I absolutely loved & could not put down.  Which is how I knew I had to reach out & invite Nichole to play in The Dungeon! :leafjump:
Nichole is a writer, broadcaster, & military spouse who owes Jane Austen, James Thurber, and Raymond Chandler for her taste in fiction. She is also the award-winning author of The Kill List, The Kill Shot, The Kill Box, & The Kill Sign starring army brat and private-eye-turned-security-specialist, Jamie Sinclair.
So please join me, my Darlings, in welcoming Nichole to our little playpen & making her feel at home while we put her up on The Rack & ask her a few of Mistress Heidi's favorite questions…

What is your favorite color?  Green
Favorite song?  Music from the Big Band Era keeps me company when I'm writing, or even just relaxing.
Favorite movie?  Oh, so many! You can't beat a classic screwball comedy and The Awful Truth with Irene Dunn and Cary Grant just might be the screwiest. I have to watch The Mummy with Rachel Weisz and Brendan Frazer nearly every time it's on because Weisz's Evie is a bookworm who means business. And can I give a shout-out to my fellow awesome nerds? I totally relate to Anna Kendrick's Becca in Pitch Perfect. Also, there's just something about Harry Potter and the Sorcerer's Stone that always makes me feel like a kid again.
And of course, favorite book?  Ack! Where do I start? Jane Austen's Pride and Prejudice, Karen Rose's Count to Ten, Tami Hoag's Dark Horse, Deanna Raybourn's "Lady Julia" series, and William Gibson's Pattern Recognition are all on my Keeper Shelf.
What was the first book in your chosen genre that you remember reading, or that made you want to write the same?  Golly! I was always drawn to anything with a mystery in it. Combine that with a little romance and look out. When I was about seven, I found an old Nancy Drew novel in a box in the attic. We're talking one of the original novels from the 1920s. Nancy entered a golf tournament, kept her eyes peeled for clues as she played, and went to a fancy dance with Ned at night. I read that and it was off to the races for me!
What do you think of Heidi?  She's great, right?  She is! She's a fabulous dungeon-mistress, too!  (Note from Mistress Heidi:  Why thank you, I do try. 

)
How did you get started writing?  Oh, I've always written. I can't remember learning to write the letters of the alphabet, but as soon as I did, I used to leave little notes for my mom. Of course, usually, I'd have to come back and interpret them for her. My entire working life had some writing component to it, whether that was writing commercials for clients or scripts for the morning news.
Tell us a little bit about The Call—i.e. your first sale.  Sure! My fabulous agent, Elizabeth Winick Rubinstein of McIntosh and Otis, called me one April afternoon and said, "Have you checked your e-mail?" Well, I'd just walked in the door, so I hadn't. Turns out, she'd been trying to let me know all morning that we had an offer from Random House's Kate Miciak. Kate has edited half the books on my keeper shelf, and she first acquired and still edits the "Jack Reacher" series by Lee Child. Turns out, she loved my soft-on-the-inside, tough-on-the-outside army brat protagonist. She's a private-eye-turned-security-specialist named Jamie Sinclair, and Kate wanted to give her a go through Random House's digital-original imprint, Alibi. I jumped at the chance to work with Kate. And the fourth book in the Jamie Sinclair series will hit the virtual bookshelves this December 6th! :turkeyrun:
Fill in the blank—If you like [blank], you'll love Nichole Christoff!  If you like the salty-sweet goodness of Peanut M&Ms, you'll love Nichole Christoff and her books!
If your plane crashed in the Andes, would you convince the other survivors to eat Heidi first or last?  Last. For dessert. Because she's so sweet! (Note from Heidi: Awww…I'm going to take this as a compliment. I think. :blackcat: )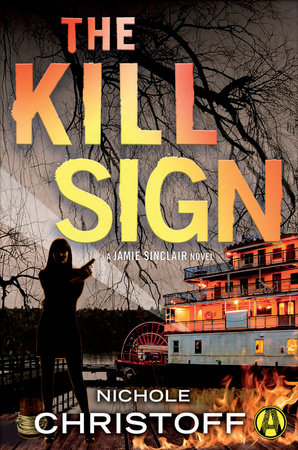 Tell us about your latest release and why we'll love every word.  In THE KILL SIGN, the stakes couldn't be higher. My security-specialist-turned-PI Jamie Sinclair finds herself in deadly waters off Mississippi's Gulf Coast when she joins her would-be boyfriend, military police officer Adam Barrett, aboard a restored riverboat for an annual army tradition called Dining Out. Barrett is currently stationed in the same Gulf Coast town where Jamie got her start as a private investigator, so she's equally excited to reconnect with her old mentor, Ray Walther, and his pregnant wife, Corinne. But all hopes for a relaxing and romantic weekend are shattered when a dirty bomb explodes on the riverboat, killing dozens of soldiers and nearly taking Jamie and Barrett down with it. In the chaotic aftermath, Jamie spots the bomber—and recognizes him from her past. But as Barrett and Jamie race to catch the terrorist before he strikes again, Ray and Corinne become targets themselves. In the end, Jamie won't let a little thing like the law keep her from protecting the people she loves most—no matter the cost.
If you could write anything—whether in the same genre/sub-genre as you're writing now or another—what would it be?  I've got a real soft spot for high fantasy and fractured fairy tales. In fact, I have one in my desk drawer. But it'll probably never see the light of day! :raking:
What are you currently working on? I'm neck deep in a new project, and I love every minute of it. Plus, my tough-as-nails protagonist, Jamie Sinclair, and that handsome military police officer of hers will be back in two new adventures in 2017. So, I'm a busy gal these days, and I couldn't be happier about it. :juggle:
LIGHTNING-FAST LASHES:
Leather or lace?  Lace
Devil or angel?  Angel  

Angel food or devil's food?  Oh, Devil's Food. Definitely!  

Hemlock or arsenic?  Hemlock
Blood, sweat, or tears?  Blood
Boxers, briefs…or commando?  Boxers
Cowgirl or missionary? That's top secret! 
Thank you so much, Nichole, that was fabulous! 
And if you enjoyed Nichole's interview, My Darlings, you're going to love her giveaway!
Nichole has generously offered to gift a digital copy of The Kill Box (for Kindle or Nook) to one lucky reader of today's visit!  (U.S. residents only, please, but everyone's welcome to chat. :smokesignals: )
(Further intrusive note from Heidi:  The Kill Box is the first book of Nichole's I read, & I an attest that it's great! :leafjump: )
If the above weren't exciting enough, Nichole wants you to know that The Kill List (Jamie Sinclair #1) will be on sale for only $.99 at Barnes & Noble and other ebook retailers tomorrow, November 15th!
So everyone please stick around to chat with Nichole—ask her questions, let her know if you've already read one (or more!) of her books or how great you think they sound just from what she's said about them here :pie: —& take advantage of both tomorrow's sale & her giveaway here in The Dungeon.
You can also visit NicholeChristoff.com anytime to find out about all of her books—past, present, & future! :cornicopia:
Comments
27 Comments • Comments Feed