Happy Sunday!
So what's everybody up to this weekend?
Around here, the weather can't seem to make up its mind…two days ago, it was snowing, & now it's supposed to be nice again for a while.  I've basically got three different pairs of pajamas going all at the same time: a shortie set, a long sleeve/long pants set, & a warm-&-wooly fleece set.  To be scampered out of or into as the temperature demands. :brr
This week, I AM HAPPY that I got a good report from the surgeon at my 6-week post-op check-up.  Wasn't expecting the full internal exam, since at the 2-week visit, he just looked at the incision & poked around a bit outside :turkey , but he said I "look much better than last time" & everything seems to be in the right place.  Whew.  Good to know; I was worried some of my internal organs had gotten mad & moved to a different zip code.
When I complained about how tender & sore my abdomen still is (as opposed to the incision, which I expected to take forever to heal, but barely realize it there anymore), he explained that even though the cut on the outside is only about four inchest wide, inside they're three times that length, going alllllllll the way across.  Well, EEP!  I'm not sure I need to know that! :turkey   It does explain a few things, though.  He told me they're going to take a lot longer to start feeling better, that the sutures he used can take three-to-six months to dissolve.  So he told me to keep up with the pain meds, as needed.
When I complained about how fuzzy my brain is & how distracted/forgetful I've been, he laughed at me.  Laughed!  Obviously he's never suffered a case of post-surgical, anesthetic- & pain killer-induced CRS (Can't Remember Shit). :houhoh He promised that, too, would pass.  His nurse agreed, but we shall see.  He also reminded me that this was major surgery & it's quite stressful on the body, so just to take it easy & not to so much worry about getting back to "normal" right away.  Oh, sure; that sounds good in theory.  I just do not remember passing so many Brain Farts after any of my other surgeries or procedures, so this is new.  I just pray it isn't permanent or I am in big trouble! :cat
I AM HAPPY that after my follow-up appointment, I found a bunch of brand new cat scratchers at Ollie's for half the price of Wal-Mart.  Well, it was two-for-the-same-
cost-as-Wal-Mart, so I figure that works out to being half-price. :skate   The Kittehs were so happy when I brought them home, too…some of the old ones were looking pretty raggedy.
I AM HAPPY that I also picked up a new Canon printer on clearance for only $29.  My other one had been working just fine, then one day something happened with the rollers & it decided it didn't want to accept paper anymore.  I think it would have still printed, if only the paper would have gone through, but you know how these things go.  Companies use all plastic & make them like crap these days, which drives me bonkers.  The other thing that drives me bonkers…?  That they practically give you a printer (I mean, $29 for a 3-in-1—really?!), but then charge an arm & a let for half an ounce of ink.  Uh-huh.  Do they think we're stupid?  It's like having someone give you a brand new car…then tell you afterward that it's going to cost you a million dollars every time you fill up the gas tank.
BUT…I really like this printer.  Even after comparing it to others & checking out the price of ink cartridges ahead of time, I still decided to go for it & it ended up working great.  Sure, it takes about five minutes to warm up, even if you just printed something…& it sounds like a load of coal rolling down a shute…but I like it! :reindeer2
And finally, I AM HAPPY that we've finally got new emoticons to play with  :gobble    :booby   AND… that the website & blog headers have been updated for the holidays.  Check them out, if you haven't already: HeidiBetts.com & HeidiBetts.com/WIPSandChains  Notice the wreaths & the Santa hats & the winter landscape & the fluffy sweater?

Too cute—I love them! :icecube
So what great & wonderful things are going on in your life this week?  Be sure to share what you're grateful for & happy about so we can cheer with you! :tsspp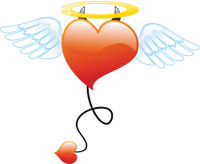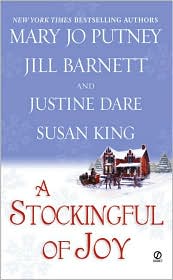 Now to announce the winner of our first Free Book Friday holiday read, A Stockingful of Joy…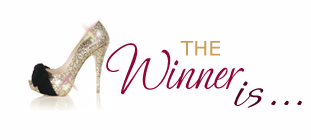 :gift Leah!!! :gift
Congratulations, Leah! :cheers Please contact me with your full name (if necessary) & mailing information, & I'll get your book out to you as soon as I can!
Comments
15 Comments • Comments Feed