Happy Release Day to
ON THE VERGE OF I DO!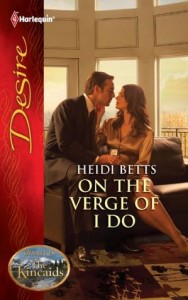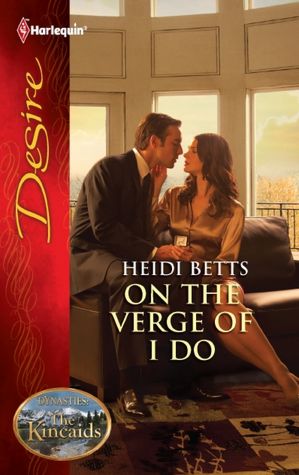 My brand new Harlequin Desire, ON THE VERGE OF I DO, releases today, & I couldn't be happier! :jumping
As you know (because I've been talking about it for months), ON THE VERGE OF I DO is the fourth book in the Charleston, South Carolina-set "Dynasties: The Kincaids" continuity series.
Wedding, Interrupted
It's hard for events planner Kara Kincaid to be planning her sister's wedding to the man Kara's had a crush on since childhood. Even harder when said sister calls the whole thing off. Hardest still is when the jilted groom shows Kara some very personal attention, threatening to destroy her relationship with her family—and Kara ends up in his bed anyway.
After a just-friends engagement that just didn't work, hotel magnate Eli Houghton thinks he's finally found the right woman. His new plan: convince Kara there's no hidden agenda, and that the magic words
are I do…
If you like your books paperbound, they officially go on sale today, & should start showing up in stores across the country! :kitty   (Remember to check your local Wal-Mart, Target, Meijer, etc., in addition to regular brick-and-mortar bookstores like Books-a-Million & Barnes & Noble.)
If you like your books digitized, the e-book (for Kindle, NOOK, etc.) went on sale over the weekend & began downloading (for pre-orders) around midnight Sunday. :twirl
So if you haven't already, I hope you'll grab your copy soon & enjoy the heck out of Kara & Eli's sweet, sexy, wonderful love story.  Then feel free to pop back in & pepper me with questions, if you like. :peekaboo
Still on the fence?  Let's see if a Top 5 list will convince you…
 Top 5 Reasons You Should Rush Out & Buy
ON THE VERGE OF I DO
5.)  I was once dubbed "The Queen of Silhouette Desire" by a reviewer.  Even though the line has since been renamed Harlequin Desire, I'm sure the sentiment remains the same.  And you don't think they toss quotes like that around for nothin', do you? :muahaha
4.)  A hero who calls the heroine things like "sugar" & "darlin'" in a sexy, knee-melting Southern drawl. :dropmouth
3.)  Sex on the Beach the drink & sex on the beach the…um, sex. :cuffs
2.)  A free mint julep with every purchase!  (Well, you know…if you make it at home & don't charge yourself.) :drinkup
1.)  I wrote it, so you know it's gonna be good. :whip

Pick Up Your Copy Today!
Amazon :: Kindle ebook :: Barnes & Noble :: NOOK ebook
eHarlequin :: Books-a-Million :: The Book Depository
!ndigo :: Amazon.ca

Comments
20 Comments • Comments Feed