I've got some wunderbar news to share!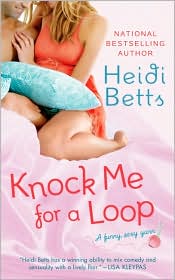 Last Saturday afternoon, when I definitely wasn't expecting any Very Important Phone calls, the telephone rang.  It was the coordinator for New Jersey Romance Writers' annual "Golden Leaf" contest letting me know that KNOCK ME FOR A LOOP has finaled in their Single Title category.
Whoo-hoo! Can you say, "Happy, happy, super-happy"?!
I'm delighted for Zack & Grace, of course, & also a little excited because I'm already signed up to attend their conference next month, so I'll be at the awards ceremony.  Hopefully to accept one—an award, that is. 😎   But even if that isn't the case, it will be ultra-fun to spend the weekend knowing KNOCK made it so far in the competition, & also to autograph copies at the post-conference booksigning.  (Along with the hot-off-the-presses THE BITE BEFORE CHRISTMAS, of course.  :vampire: )
Comments
16 Comments • Comments Feed