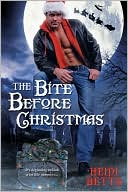 I'm blogging today at Brava Authors, chatting about Christmas, vampires, & THE BITE BEFORE CHRISTMAS.  I hope you'll drop by & show me some post-holiday love, even if you've heard it all before. :dracuulla
As usual, the holidays have put me behind.  I don't know how it happened…I never really make big plans over the holidays—especially with a deadline looming—& yet every year, things seem to get completely out of hand.  Cards & gifts & meals & visits (affectionately known this year as "Prep & Landing") just seem to pile up & throw me off track.
So I'm getting to my Desire line edits much later than I'd like…& later than my editor will probably appreciate.  (Sorry, Charles! Hope you can forgive me…& will maybe return to a bunch of work waiting for you at the office that would make you push these to the back burner, anyway. :angel )
But I can't help appreciating all of the wonderful notes he wrote in the margins to cheer me up while I'm fixing other problem areas.  Thankfully, there aren't many of these, but a couple are going to take some work. :smash
So far for HER LITTLE SECRET, HIS HIDDEN HEIR, I've received:
5
s
8
s
1 "Love this prologue!"
(Yay!)
1 "
this opening, Heidi!" (Yay again!)
1 "
this chapter ending!" (Triple yay!)
1 "Oh, he's a smooth one—I'm really taken in by this guy."
1 "Gotta love Helen!" (Helen is the heroine's aunt…she's not terribly fond of the hero in the beginning. *g*)
1 "Heidi, you wrote the book on sexy!"
(Well, not yet—at least not literally. But it could happen. :Bigthumbs )
1 "Nice chapter ending—a zinger!"
1 "I'm a sucker for the drama in this chapter, Heidi!"
6 Ha!s
1 "Ha! Love it!"
1 Hee-hee
1 "Probably my favorite epilogue ever, btw."  (Wow, I'm kinda flattered by that one.  And intimidated…what did I do & can I ever do it again? :cry )
& 1 "Love the way this book transports me to a world of hope & love…& baked goods. The perfect blend!!! *g*" (Awww.  Everything is better with baked goods, though, don't you think? :chocolate )
What I'm learning is that…
I apparently don't know how to spell "Croesus," & spell check didn't catch my mistake.
I don't know the difference between "capital" & "capitol."  (Do I really need to?  Okay, maybe I'll work on it. :tpspspspt )
The word "progeny" is plural, not singular. (Huh. Who knew? Well, okay, probably lots of people other than myself, but it's not exactly a term I use very often in everyday conversation. :goofangel )
I am the queen of alluding to something one place, then explaining it a chapter or two later. (This is where simply trusting me to fill in all the blanks really comes in handy.  Hint-hint. :winkwink )
&…  Folks who live in small towns are way different from those who live in the big cities.  (So now I've got "A Little Bit Country, A Little Bit Rock 'n Roll" playing on a loop in my head. :sadheart )
Comments
8 Comments • Comments Feed