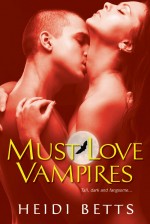 I'm at Author Island today, celebrating the shiny new release of MUST LOVE VAMPIRES with a Cyber Launch Party!  We'll be talking vampires galore, so come over & join the fun!  (P.S. There will be a giveaway! :fangsmiley )
Only TWO DAYS LEFT to enter the "VAMPS IN VEGAS" Giveaway!
Don't miss your chance to win oodles of fang-tastic vampire & Vegas swag (see photo & list below) that will make you the envy of all your friends & fellow romance readers.  That's right—they are gonna be soooooooo jealous! :biteme
Double the vampires, double the fun.
Look out, Sin City—here they come!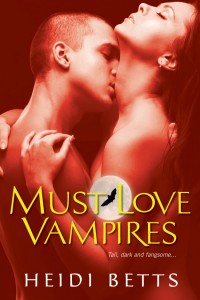 Welcome to the first of THREE fang-tastic giveaways I have planned to celebrate the release of my super-sexy, bitingly funny paranormal romance MUST LOVE VAMPIRES!!!
If you haven't already, mark your calendars for September 27th (or right around there, anyway) & grab your copy as soon as you can!
Yes, that's a shameless plug for you to BUY THE BOOK! :elvira

But it's also my way of giving you fair warning: Giveaways #2 & #3 are going to require you to read the story & be familiar with the characters. (Trust me, the prizes will be worth the hustle. :fanglips )
Giveaway #1 (i.e. this "Vamps in Vegas" Giveaway) is pretty much a freebie. :vegas
So here's a picture of all the fang-tastic swag you could win by entering…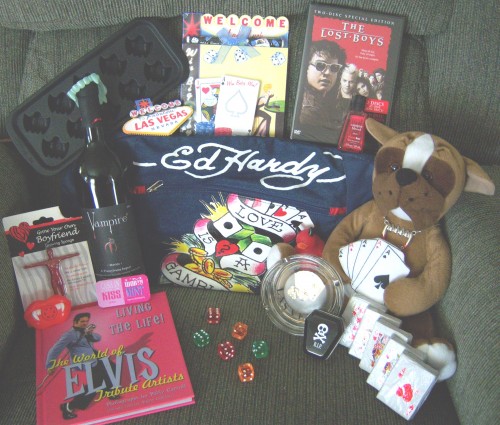 And since you probably don't have super 200/200 vampire vision, here is a list of the…
CONTENTS of the "Vamps in Vegas" Giveaway
:bat2 bottle of Vampire Wine (Yes—it's actual Vampire wine, & it is awesome. This one is Merlot, & it has the cutest…I mean, darkest, scariest, bloodiest—raaawr! :littlevamp …little description on the back!)
:bat2 The classic & soooooo good cult favorite The Lost Boys on DVD
:bat2 "Welcome to Las Vegas" refrigerator magnet
:bat2 "Welcome to Las Vegas" notepad set
:bat2 Living the Life!: The World of Elvis Tribute Artists
:bat2 Little Black Bats Ice Cube Tray (silicone for easy pop-out)
:bat2 Glow-in-the-Dark Fangs
:bat2 Vampire Blood antibacterial gel (which smells like Plum instead of blood, thank goodness)

:bat2 dog playing poker (of the plush (was going to say "stuffed" then thought blurg!) bulldog variety)

:bat2 Vampire Bite necklace Complete with ooey-gooey drops of blood! (You have to look kind of closely for this one; it's around the stuff dog's neck.)

:bat2 etched glass Las Vegas ashtray (I mean, candy dish. Yeah, it would be unhealthy to give you an ashtray, so you're going to have to use this as a candy dish. Luckily, the next item in this giveaway is…)
:bat2 set of Colorful Dice (for practicing Craps on the flight to Vegas :fuzzydice )
:bat2 set of Chocolate Playing Cards
:bat2 "Cash in on a Kiss" Lip Balm / "I'm Worth a Mint" sugar free peppermints (Both inside the same handy, showgirl-pink tin! :dancer )

:bat2 Vampire Fangs Whistle
:bat2 Grow Your Own Boyfriend (Because I'm pretty sure it's illegal—or at least really, really frowned upon—to visit Las Vegas alone, & this way your sexy male companion can be any one/thing you want him to be!)
:bat2 R.I.P. breath mints (Which do not—I have it on good authority—give you breath like a corpse. Rather they're meant to take care of that dreaded morning "death breath." :coffin )
& last but not least…
:bat2 a little Rubber Devil Duckie (which has nothing to do with Vegas or vampires or MUST LOVE VAMPIRES, but is one of Mistress Heidi's Dungeon favorites)
:bat2 all inside a gorgeous Ed Hardy "Love is a Gamble" denim duffle bag
:batmoon
And because fine print can be a killer (worse than a bloodthirsty vampire, even! :face ), here are some…
RULES & HOW TO ENTER the "Vamps in Vegas" Giveaway
:chip To enter, you must be signed up for my Newsletter. (And remain subscribed, of course.)
That means if you're already on my Mailing List, then you're already entered!
If you're not sure whether your on my Mailing List or not, sign up again! (A.) the list will not let you sign up with the same e-mail address twice. B.) I lost my entire mailing list a while back & don't think everyone who was on it has gotten back on. So if you're not sure—sign up again, just to be safe!)
:chip All entrants must be 18 years of age or older.
:chip Due to rising postage costs, this contest is open to U.S. residents only.
:chip Contest will run until Saturday, October 1, 2011.
:chip Winner will be announced here on the WIPs and Chains blog on Sunday, October 2, 2011 during our usual "Happy Sunday" post.
:chip If the winner does not contact me with her mailing information or cannot be reached within seven (7) days, another name will be drawn & a new winner will be announced.
:chip Not responsible for items damaged or lost during shipping or for mis-directed mail.
:batmoon
Good luck! And be sure to spread the word about this contest to all your romance- & vampire-loving friends! :play
Comments
5 Comments • Comments Feed