Late last week, I received an e-mail from the lovely Emma Barker, a reporter for The Daily.  She's writing an article about the "Billionaires and Babies" series from Harlequin Desire, & wanted to talk to me about my very own November "Billionaires and Babies" release, SECRETS, LIES & LULLABIES.
Well, who am I to refuse? :elvis
So she called me on Monday & very politely asked if it was a good time to talk.  And it totally was…until 30 seconds after I said so, when all hell broke loose in my house.  Seriously, not a single thing happened all morning, but I get an Very Important Phone call & the next thing you know, The Kittehs start to fight, there's a knock at the door, & the Call Waiting starts to buzz.  Can you say Murphy's Law? :elvira   Thankfully, Emma was very patient while I ran around putting out fires, then locked myself in my office for a little peace & moderate quiet.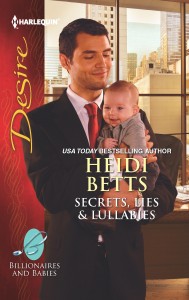 As I said, Emma is lovely, & was very curious about what attracts readers to the idea of a rich, Alpha male paired with an adorable & often secret or surprise tot.  She also wanted to know how I got involved in the "Billionaires and Babies" books for Desire.  I answered as best I could, & hopefully sounded semi-intelligent on the subject.
I will be curious to see the article when it comes out, as well as what other information she scraped up on Harlequin's "Billionaires and Babies."
But in the meantime, what appeals to you about Desire's "Billionaires and Babies" books…or maybe just the m/billionaire baby daddy storyline in general?

Where to Buy LULLABIES
Amazon :: Kindle ebook :: Barnes & Noble :: NOOK ebook
eHarlequin :: Books-a-Million :: Indiebound ::
The Book Depository (free international shipping)
!ndigo :: Amazon.ca

Comments
7 Comments • Comments Feed