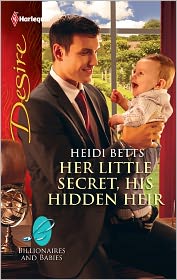 Only FIVE DAYS left—less than a week!—until HER LITTLE SECRET, HIS HIDDEN HEIR's official release date! :claphat
In paperback, that is.  HIDDEN HEIR is already available in e-book format for Kindle, NOOK, etc.  If you need links, let me know; I'll not only point you in the right direction, but take you by the hand & walk you to those other sites myself. :cupcake
But just so you know, it is possible that HER LITTLE SECRET, HIS HIDDEN HEIR has already made its way onto a bookstore or Wal-Mart shelf near you. :howyoudoin   So feel free to start looking for it.  And if you snap a picture of your finds, I'll even stick it in the sidebar as part of our periodic "Bookspotting" segment.
All right, let's get down to business.  Today, I want to introduce you to MARCUS KELLER, the intrepid hero of my latest Harlequin Desire release.
Face-to-face with his ex-wife again, millionaire Marcus Keller received more than a jolt of deep attraction—he discovered he was a daddy. Vanessa had been pregnant when they divorced, bore him a son, and kept it a secret. It was a betrayal he wasn't sure he could ever forgive.
But there was no way he would walk away from his child…his heir. The businessman would do his best to be civil to the lovely bakery owner, who was one tough cookie in her own right. But would it only be business between them…or would Marcus indulge his own secret agenda to make this woman his again—once and for all?
Welcome to The Dungeon, Marcus. We're happy to have you with us today to talk a little about HER LITTLE SECRET, HIS HIDDEN HEIR and your relationship with Vanessa.
First, tell us a little bit about how you and Vanessa met.
Marcus:  I stopped at this little diner after working late one night, and she was waiting tables.  I'm not usually a greasy spoon kind of guy, but I went back several more times over the next few months.  Their coffee was exceptional.
And what is it, exactly, that you do?
Marcus:  I'm the CEO of my family's textile company, Keller Corporation.  My brother, Adam, is CFO.
You sound like a very busy—and worldly—man.  What ever possessed you to visit a tiny little town like Summerville, Pennsylvania?
Marcus:  I'm a businessman at heart.  I may come from money, and may have made a nice nest egg of my own on top of that, but I'm always looking for new business ventures and investments to buy into.  It was a long shot, but I thought there might be a decent investment opportunity in Summerville that I could get involved in.
Little did you know you'd run into you ex-wife there, huh?
Marcus:  [lips pursed] No.  I wasn't expecting that.
If you don't mind us asking…  Why did the two of you get divorced, anyway?
Marcus: [with a snort]  You'd have to ask her.  I thought we were happy.  God knows I gave her everything she ever wanted.  Took her out of that rat trap of a diner & treated her like a princess…but I guess it just wasn't enough for her.
How did you feel when you saw her for the first time after so long apart?
Marcus:  How do you think I felt?
Well, then, how did you feel when you discovered your "HIDDEN HEIR"?
Marcus:  [raised eyebrow, followed by stony silence]
[clearing throat]  Right.  Well, then, tell us what your intentions are now that you've discovered Vanessa kept Danny a secret from you all this time.  Are you going back to Pittsburgh…staying in Summerville…taking your ex-wife to court to for full custody…?
Marcus:  I haven't quite decided yet.  But I can tell you this:  I'm not leaving Summerville without my son.  Whether or not Vanessa comes back to Pittsburgh with us or not is up to her.
Allrighty, then.  I guess we'll all have to wait and see how that turns out.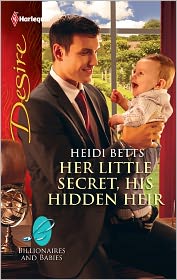 Thank you again for being with us today to talk about your role in HER LITTLE SECRET, HIS HIDDEN HEIR.
And if anyone else has questions for Marcus, please don't hesitate to post them.  He'll be by to answer them in between signing new merger deals and changing dirty diapers.

P.S.  Don't miss Monday, June 6th, when HIDDEN HEIR's feisty heroine, Vanessa Mason Keller, will be here to give us her side of the "LITTLE SECRET" story… :wink
Comments
5 Comments • Comments Feed