A fabulous new review for MUST LOVE VAMPIRES has just come out, & I have to share!  Technically, it's a review of the trade edition of the story, but since the only difference to the paperback is new cover art, a revised back cover blurb, & the extra epilogue at the back, I think the review can be applied to either version.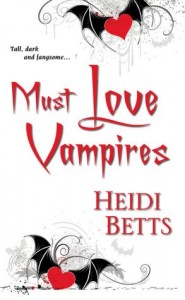 Sinfully Tasty Reads says:
Must Love Vampires was the perfect name for this book because you could not help but fall in love with Sebastian and Aidan Raines. These two HOT brothers make vampires a must have. Heidi wrote a VERY HOT!!!! book that I had trouble putting down.
Chloe and Charlotte (a.k.a. Chuck) Monroe are identical twin sisters. Though they share looks and a career surname of Lamoreaux, their career paths have taken a completely different turn. Chloe is a Las Vegas showgirl for the Inferno casino and Chuck is a reporter for the Sin City Tattler.
Sebastian and Aidan Raines are the hottest vampire brothers to ever settle down in Sin City. Sebastian is the no-nonsense brother who owns and operates the Inferno casino while Aidan is carefree and still trying to find his niche in life.
This book is broken up into two stories that start off relatively the same (as in same starting point, not the same words…lol) and then come together near the end. First half follows Chuck on her quest to find out if Sebastian is an honest-to-goodness vampire. While the second half follows Chloe and Aidan on their way to eloping. What follows is a great fast past very HOT story. I can't say anything more without spoiling the story for everyone.
I love how Heidi crafted both sides of the book. I love how the perfect couple actually had some secrets, while the other pair were liberated from their normal selves. She takes all the dark elements we love about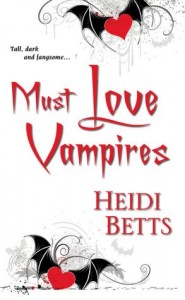 vampires and makes it all so alluring. On a scale from 1-10 I give Must Love Vampires a 10. I thought it was super hot and sexy with everything I could want in a fast-paced vampire romance. If you are looking for hot vampires/hot twins, unexpected love, secrets, and just a good read then you need to pick up this book. I encourage everyone adult 18+ to pick up a copy of Must Love Vampires and find out if the house truly always wins.
And that just makes me smile. :yummy   Thanks, Sinfully Tasty Reads!

Buy Your Copy Now
Amazon :: Kindle ebook :: Barnes & Noble :: NOOK ebook
Books-a-Million :: Indiebound :: !ndigo :: Amazon.ca
The Book Depository (free international shipping)

Comments
4 Comments • Comments Feed