"The lullaby is the spell whereby the mother attempts to transform herself back from an ogre to a saint."
~James Fenton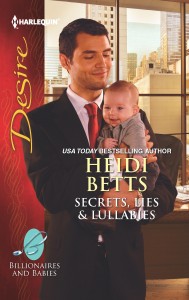 Everybody has a favorite lullaby, don't they?  We can't always remember the words or get all the way through without getting a little choked up, but something about lullabies just makes us feel safe & warm & loved. :mistletoe
And even though they aren't on the actual pages of SECRETS, LIES & LULLABIES, you just know Jessica sang lullabies to little Baby Henry.
What do you think those lullabies might have been?
And more importantly…
What's your LULLABY?
What's your favorite lullaby?  The one you sang to your children or remember your mother singing to you?
A couple of my all-time favorites…& ones I remember Madame Mommy Dearest singing to me…are "Mighty Like a Rose" & "All Through the Night."
How about you?

Where to Buy LULLABIES
Amazon :: Kindle ebook :: Barnes & Noble :: NOOK ebook
eHarlequin :: Books-a-Million :: Indiebound ::
The Book Depository (free international shipping)
!ndigo :: Amazon.ca

Comments
6 Comments • Comments Feed