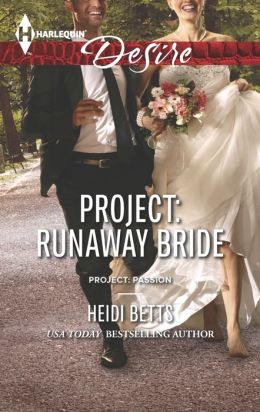 With the release of PROJECT: RUNAWAY BRIDE ("Project: Passion" – Book 2) just around the corner, I thought I'd help to build the excitement for a new Heidi Betts book by giving away a previous Heidi Betts book! :reindeergift
And since it's the holidays, what better to choose from than my backlist of Christmas titles? :reindeerlights
The first book I'll be giving away on the "Race to RUNAWAY BRIDE" is my sexy, funny collection of vampire novellas, THE BITE BEFORE CHRISTMAS!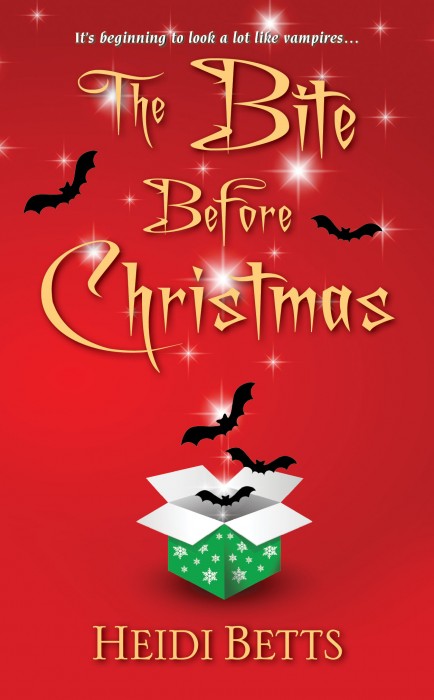 Vampires turn to fanged and fabulous matchmaker extraordinaire Angelina Ricci to help them find that special someone to curl up with under the mistletoe in this charming (read: sexy) and delightful (read: funny) holiday collection by national bestselling author Heidi Betts.  Because vampires need love, too. (Biting optional. Hot sex guaranteed.)
"All I Vant For Christmas"
Millionaire vampire Connor Drake loves trimming the tree, baking gingerbread cookies, and hanging the mistletoe for Christmas, but his Goth and gloomy vampire siblings won't have anything to do with it. Enter Angelina, who sends party planner Jillian Parker to the rescue. But when Jillian—who's mortal—discovers that she's decking the halls for a family of vampires, will she run…or will Connor have a beautiful woman to share the holidays with?
"A Vampire in Her Stocking"
When Vivian learns that her secret crush, Sean, is terminally ill, she is heartbroken. Confiding in her matchmaking friend, Angelina recommends the obvious—give Sean eternal life by turning him into a vampire, too. But when Vivian refuses, Angelina decides to play Santa (with a side of Cupid) and changes Sean for her, leaving him wrapped in a bright red bow on Vivian's doorstep…
"It's A Wonderful Bite"
Although Angelina is happy with her longtime lover, Ian, she's ready for a commitment. After drinking eggnog and watching It's a Wonderful Life on Christmas Eve for the (literally) four millionth time, Angelina falls into a dream where she is mortal, and Ian is involved with someone else. Talk about the nightmare before Christmas! But Santa must have checked his list twice, because this Christmas, Angelina's wishes are about to come true…

Where To Buy
Amazon :: Kindle ebook :: Barnes & Noble
NOOK ebook :: Indiebound :: Books-a-Million
Book Depository (free international shipping)

To enter, simply leave a comment telling me what you're most looking forward to about PROJECT: RUNAWAY BRIDE
*You must be 18 years or older to enter
*Everyone welcome (no U.S.- only restrictions this time :candycane )
*Winner will be announced on Sunday, December 15, 2013 as part of our regular "Happy Sunday" post
*Entrants should stop back on the above date to see whether or not they've won, & the winner should contact me with her full name & mailing information as soon as possible…though I will make an effort to contact the winner once her name is chosen. :iceskatingman
Good luck! :winkcookie
And don't forget to pre-order your copy of PROJECT: RUNAWAY BRIDE today!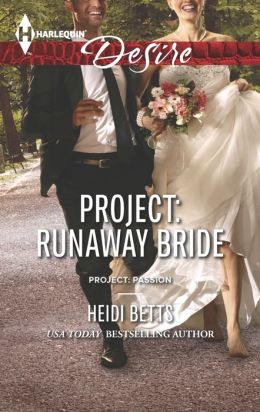 (Book 2 – "Project: Passion" miniseries)
Harlequin Desire #2280
January 2014
ISBN: 978-0-373-73293-7
Runaway Bride's Big Baby Secret
Handbag designer Juliet Zaccaro should be walking down the aisle, so why is she running out of the church instead? Because she's just found out she's pregnant, and not by her cruel, distant fiancé! Now it's up to private investigator Reid McCormack to bring her home. But once he finds her, he'll make sure she doesn't go back to her fiancé—especially since the baby she's carrying might just be Reid's. Even as Juliet denies their explosive chemistry, can Reid convince her that there's more between them than a baby bump?

Order PROJECT: RUNAWAY BRIDE Now!
Amazon :: Kindle ebook :: Barnes & Noble :: NOOK ebook eHarlequin :: Books-a-Million :: Indiebound :: The Book Depository (free international shipping) :: !ndigo :: Amazon.ca

Comments
7 Comments • Comments Feed