Okay, I am really excited about this one! :party
Even though I got a sneak peek a couple weeks ago, I haven't been able to share the cover of my June Harlequin Desire, HER LITTLE SECRET, HIS HIDDEN HEIR until…
right…
now…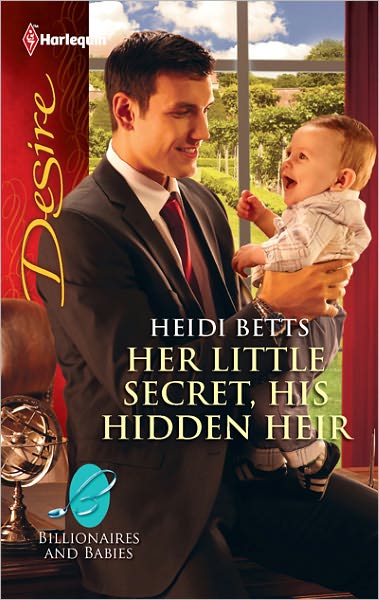 And here's the blurb from the back:
Lies and Lullabies
Face to face with his ex-wife again, millionaire Marcus Keller received more than just a jolt of deep attraction—he discovered he was a daddy. Vanessa had been pregnant when they divorced, bore him a son, and kept it a secret. It was a betrayal he wasn't sure he could forgive.
There was no way he could walk away from his child…his heir. The wealthy businessman would do his best to be civil to the lovely bakery owner, who was one tough cookie in her own right. But would it only be business between them, or would Marcus indulge his own secret agenda to make this woman his again…once and for all.
Billionaires & Babies: Powerful men–wrapped around their babies' little fingers.
Whoo-hoo! :dancing   Isn't it GORGEOUS?!
Yes, this is the same cover that I earlier complained about because the hero looked so freaking young.  But Harlequin, being the stand up publisher that they are, went back & worked some artistic magic to make him look a bit more mature.  I know he still looks young-ish, but trust me when I say that compared to the original, this is much, much better, & the guy looks much, much more like my wonderfully sexy hero.
And how cute is that baby?  I can practically hear him giggling already, & just want to just grab him up & snuffle raspberries all over his sweet widdle bewwy! :love
As you can see, HER LITTLE SECRET, HIS HIDDEN HEIR is part of Desire's ongoing "Billionaires and Babies" promotion.  Don't confuse this with a continuity or mini-series, though.  That's simply a special stamp they put on stories that are about secret babies, surprise daddies, etc.  This is most definitely a one-author stand-alone book by Yours Truly. :gotcha
You might also notice the tiny change in the upper left-hand corner from "Silhouette" to "Harlequin."  That's the switch I mentioned earlier here at WIPs and Chains, where Harlequin Enterprises is bringing all of their category lines—some of which used to be Silhouette (i.e. Silhouette Desire, Silhouette Special Edition, etc.)—under the Harlequin umbrella.  So now all of those lines you were used to calling Silhouette will now be called Harlequin.  (I know—I'm having a heck of a time getting used to it, too! :question )
But now that we've got official artwork, that means you can officially Pre-Order.  Yippee! :dancing   So here are the pre-order links: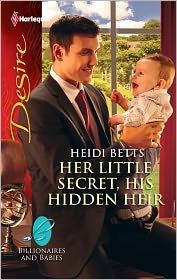 And please start spreading the word to anyone you know who also loves a great passionate & emotional romance! :cantputdown   In addition to being available for pre-order right this minute, HER LITTLE SECRET, HIS HIDDEN HEIR will be available the first week of June 2011!
I can't wait! :happyjoy
P.S. I'm also over at the Brava Authors blog today, asking for reader input on "interviewing a vampire."  :surrprisse   So now is your chance to ask all those burning—but not by blistering sunlight!—questions you've always wanted to ask someone of the fanged persuasion…if you dare. :dracuulla
Comments
12 Comments • Comments Feed