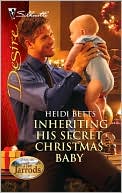 As you know, I am part of this year's "Dynasties:  The Jarrods" continuity series for Silhouette Desire, wrapping things up with INHERITING HIS SECRET CHRISTMAS BABY early next month.
I am SO excited about this release!  For those of you who don't know, I've been away from Silhouette Desire for a while…doing the knitting books & then the vampire book.  All great projects, but I do dearly love writing for Desire, & CHRISTMAS BABY has been a wonderful re-introduction to the line for me.
Yes, it's a continuity story, which means that it's part of a multi-book, multi-author series, but even though I was handed much of the plot for this book, it was right up my alley from the very beginning.  We've got a secret baby, a bit of blackmail, & a boatload of super-steamy sexual tension between the hero & heroine—who could ask for anything more? :winkwink
So let me introduce you to this wonderful story & it's even more wonderful characters, Trevor Jarrod, Haylie Smith, & baby Bradley.  (Is he a Smith or a Jarrod—or both? :whhhat )
Silhouette Desire #2055
December 2010
ISBN 978-0373730681
(Dynasties: The Jarrods — Book 6)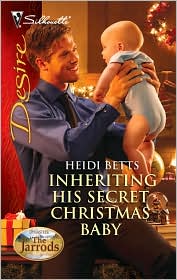 This wasn't the type of Christmas present he'd been expecting. Trevor Jarrod—a daddy? Yet the enticing woman seated in his office claimed the Aspen businessman was the father of her baby nephew. Quick as he could say paternity test, Trevor discovered she was telling the truth. But just what did this revelation mean? The confirmed bachelor knew nothing about being a parent. And Haylie Smith wasn't about to hand off the precious infant to a complete stranger.
If Trevor really wanted to claim his unexpected heir, he had an important choice to make—head to court…or head to the altar!
And now, to introduce you to our cast of characters (as suggested in the "Dynasties:  The Jarrods" bible).
MEET TREVOR JARROD
At six-feet-two-inches, flirty, laid-back, athletic Trevor Jarrod can often be found frequenting the slopes. He runs a marketing firm in Aspen, Colorado, & has recently taken of as President of Marketing for Jarrod Ridge.
MEET HAYLIE SMITH
Slightly full-figured, honey-blond Haylie Smith always takes care of everyone else before herself. She owns her own event-planning company in Denver, Colorado, & is sister to Bradley's deceased mother, Heather.
MEET BABY BRADLEY
Aww.  Bradley Smith—possibly soon-to-be Bradley Jarrod—is an adorable three-month-old baby boy.  He enjoys naps, baths, sucking his toes, & a warm bottle on a cold day.
Comments
11 Comments • Comments Feed