As I mentioned last week, I have finished my "Dynasties:  The Kincaids" book (#4 in the series, so watch for it!) for Harlequin Desire & turned it in on schedule.  (i.e. I met my deadline—praise the Lord! :angelme )
I cannot tell you how happy I am with the way this story turned out.  I absolutely adored Kara & Eli & even made myself sniff a couple of times toward the end while I was polishing the book.  It was just sooo sweet & romantic & sigh-worthy. :crying   Not that I'm biased or anything. *vbg*
I also get to breathe a big sigh of relief that I have once again managed to finish another book.  Oh, yes, there were doubts.  There are always doubts.  Somewhere around the middle of every book, things start to run not so smoothly, & I'm usually pretty sure the story is crap, I've done something horribly wrong that cannot be fixed, & there is just no way I'm ever going to finish the book on time.  Thankfully, that phase also always passes & I eventually get back to the "This story is so good.  I think I may be a literary genius!" phase. :getdown
So now that the story is on Editor C's desk & in the pipeline to be released in April of 2012 (that's right—mark your calendars! :doh ), I thought I would give you a sneak peek at the characters I fell in love with.
This is Kara Kincaid.  Even though her family is quite wealthy & runs the family business, Kincaid Shipping, she's struck out on her own & started Prestige Events, where she does fabulous event planning—everything from weddings to anniversary parties to bar mitzvahs.  When the story opens, she is actually planning a wedding for her sister, Laurel Kincaid, who is engaged to…
Eli Houghton.  Oh, yes, a wrench in the works.  And sparks—lots & lots of sparks. :inbed
This is Eli Houghton.  Rich & handsome, he started out in the foster care system, but ended up a self-made millionaire with a string of luxury hotels & resorts decorating his portfolio.  When the story opens, he is engaged to Kara's sister, Laurel…  But the heart wants what it wants, & when Laurel starts to get cold feet, Eli realizes Kara is the Kincaid sister he really wants.
Oh, gosh—goosebumps!  Have I mentioned how fantastical this story is & how much I love this couple?  I do, I do, I really do.  Which might be why it's officially been titled ON THE VERGE OF "I DO".
That's right, you heard it here first, folks!  We've got a title & a release date, & two characters who are so perfect for each other, it's scary! :bees
I'll be repeating this information down the road, I'm sure, when ON THE VERGE OF "I DO" is about to hit the stands.  But for now, only my wonderful Darlings of The Dungeon get the 411 early.  Why do you think they call it a "sneak peek," my Darlings? :wink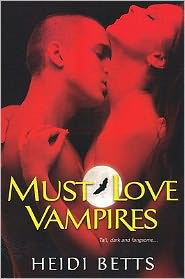 P.S. I'm blogging at Brava Authors today, asking for volunteers & suggestions for Paranormal Romance Reviewers/Sites that might like to review an ARC of my October Brava release, MUST LOVE VAMPIRES.  I'm also giving away an autographed ARC of MUST LOVE VAMPIRES to one lucky winner who hangs out with me at Brava Authors today, so be sure to drop by & chat!
Comments
14 Comments • Comments Feed