Welcome to a new feature here in The Dungeon (at least temporarily *g*) that I like to call "What's Cookin', Hot Stuff?"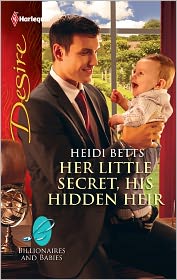 As you know, I'll have a new Harlequin Desire out in June called HER LITTLE SECRET, HIS HIDDEN HEIR, & the heroine of this story runs a bakery called The Sweet Spot.  So I thought it would be fun to start posting recipes leading up to HIDDEN HEIR's release.
To start, I'm going to share a recipe for one of my favorite cookies.  This goody doesn't actually appear in the book, but it totally could. :cookinme
Whenever I have over-ripe bananas, I make these.  They taste like banana-nut bread—only better.
BANANA NUT COOKIES
Ingredients:
1/3 cup butter, softened
1 cup sugar
2 eggs
½ teaspoon vanilla extract
2 1/4 cups flour
2 teaspoons baking powder
1/2 teaspoon salt
1 to 1 1/2 cups ripe bananas (3 or 4)
1/2 to 3/4 cup chopped walnuts
1/2 cup white chocolate chips (optional)
Directions:
Preheat the oven to 350 degrees.
Line baking sheets with parchment paper.
Cream butter & sugar.
Add eggs & vanilla. Mix well.
Add bananas by dropping thin slices into batter. Mix.
Add dry ingredients. Mix well.
Fold in the nuts (& white chocolate chips, if preferred).
Place teaspoonfuls of cookie dough onto parchment paper-lined baking sheets about 2 inches apart.
Bake for 12 to 14 minutes or until outer edges are golden brown.
Remove from the oven. Place on wire rack to cool.
(Makes about 5 dozen cookies.)
Comments
6 Comments • Comments Feed