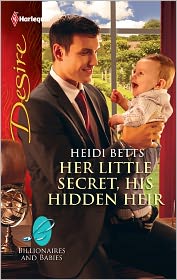 Here's another really good recipe for you while you're awaiting the release of HER LITTLE SECRET, HIS HIDDEN HEIR.
This one isn't in the book, but something similar (i.e. chocolate + peanut butter = :spaghetti ) is.
And, yes, I mean the actual recipe, so if you want THE best cookie recipe I've got to offer, be sure to pick up the book as soon as it's available. :howyoudoin
You're lucky I was willing to share…& this one, too, because they are both To. Die. For. :bigwow
CHOCOLATE PEANUT BUTTER BARS
Ingredients:
6 tablespoons butter
1 cup peanut butter
3/4 cup granulated sugar
1/2 cup brown sugar, packed
3 eggs
1 teaspoon vanilla
1 cup flour
1/4 teaspoon salt (optional)
2 cups semi-sweet chocolate chips, divided
Directions:
Preheat oven to 325.
Line a 9" X 13" baking pan with foil, leaving some hang over sides, for lifting out bars once baked.
Grease foil with Crisco, then flour. Set aside.
In large bowl, cream butter and peanut butter until smooth.
Add sugars, eggs, & vanilla. Beat until creamy.
Blend in flour & salt.
Stir in 1 cup of chocolate chips.
Spread into prepared pan.
Bake 25 minutes or until edges begin to brown.
Remove from oven. Turn oven off.
Sprinkle remaining cup of chocolate chips over bars.
Return to oven for about 3 minutes or until chips become soft.
Spread softened chocolate to cover entire top of bars.
Cool on wire rack for about 15 minutes.
Remove from pan using foil as handles.
Once chocolate "frosting" has hardened, cut into bars.
For more great recipes & fun chit-chat,
be sure to sign up for my HappyBookers YahooGroup. We're doing a bit of a recipe swap over there, too, in anticipation of HER LITTLE SECRET, HIS HIDDEN HEIR's upcoming release, so you can collect or share recipes to your heart's content. :flip
Comments
2 Comments • Comments Feed