I think today's HER LITTLE SECRET, HIS HIDDEN HEIR recipe is perfect for this festive holiday.  But I'm not absolutely certain, so you be the judge.  Fair warning, though…you may have to eat more than once piece to be sure. :howyoudoin
Tequila Cake
Cake Ingredients:
2 cups sugar
1 cup butter
4 eggs, lightly beaten
1 cup milk
3 1/2 cups all purpose flour
3 teaspoons baking powder
1/4 teaspoon salt
1/4 premium tequila
Cake Directions:
Preheat oven to 425°F.
Next cream the butter, eggs, and sugar together.
Stir in the milk, then add the flour, baking powder, salt, and tequila.
Beat mixture well until smooth and shiny.
Fold the batter into a greased and floured bundt pan and bake for 1 hour or until a toothpick inserted in middle comes out clean.
Cool on wire rack, then remove cake from pan.
Place on cake plate.
Glaze Ingredients:
1 cup light brown sugar
1 cup dark brown sugar
1/4 cup water
pinch of salt
1/4 cup premium tequila
2 tablespoons Gran Marnier (or your favorite orange flavored liquor)
Glaze Directions:
Place the sugars, water and slat in a saucepan and bring to a slow boil.
Continue to cook until the sugars are semi caramelized.
Remove from heat and stir in the tequila and Gran Marnier.
Top the cake with the glaze while the glaze is still warm.
(Serves 10 – 12)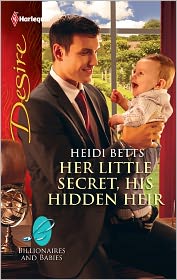 So what do you think?
I'm not sure Marc & Vanessa would try this one…things are hot enough between them without adding alcohol to the mix. :us
But give it a shot—ha! get it?  tequila…shot…  I crack myself up sometimes! :eggcrack —& let me know if you like it.
(A Dungeon Legal Disclaimer: Heidi & Mistress Heidi are not responsible for any little secrets or hidden heirs that may result from the enjoyment of this dessert! :devang )
If you'd like to collect even more great recipes, or maybe share a few of your own, be sure to sign up for my HappyBookers YahooGroup. We're doing a bit of a recipe swap over there, as well, in preparation for the release of HER LITTLE SECRET, HIS HIDDEN HEIR. :flip
Comments
One Comment • Comments Feed