With Easter now behind us, I'm guessing we could all go for a really good recipe to use up all those yummy carrots the Easter Bunny left behind.  Right?  Well, have I got one for you!
Madame Mommy Dearest's Carrot Cake
(Cake Instructions)
Ingredients:
2 cups flour
1 cup sugar
1/2 cup brown sugar
2 teaspoons cinnamon
1/4 teaspoon ginger
2 teaspoons baking powder
1 teaspoon baking soda
3/4 teaspoon salt
4 eggs
1 1/2 cups oil
1 tablespoon vanilla
2 – 3 cups shredded carrots
1 cup crushed pineapple, drained
1/2 cup chopped walnuts
1/2 cup chopped pecans
1/2 cup toasted coconut
1/2 cup golden raisins
Directions:
Preheat oven to 350.
Grease and flour two 9-inch, three 8-inch, or one 12-cup tube pan. Line the bottoms of the circular pans with circles of parchment paper.
In large mixing bowl, combine dry ingredients.
Add eggs, oil, & vanilla; beat until combined.
Stir in carrots, pineapple, nuts, coconut, & raisins.
Pour batter into prepared pan(s).
Bake 35 to 40 minutes, or until toothpick inserted in center comes out clean.
Cool on wire rack for 10 minutes. (Run knife around circular cakes to loosen.)
Invert cake(s) onto wire rack and allow to cool completely.
(Frosting Instructions)
Ingredients:
8 oz. pkg. cream cheese, softened
1/2 cup (1 stick) butter, softened
1 1/2 teaspoons grated orange peel
3 1/2 cups powdered sugar
1 teaspoon orange juice (or vanilla)
Directions:
Combine all ingredients in bowl.
Beat at medium speed until well blended.
Frost cooled cake. Sprinkle with finely chopped nuts &/or toasted coconut.
(
Note: You can also turn this recipe into "Hummingbird Cake" by substituting the carrots with bananas.  )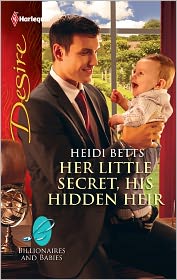 These delicious recipes are of course all leading up to the fabulous release of my June Harlequin Desire HER LITTLE SECRET, HIS HIDDEN HEIR.  I hope you're as excited about Marc & Vanessa's story as I am, & have maybe—hopefully?—already pre-ordered your copy. :cupcake
I want to know if you're trying any of these for yourself, too!  Let me know if you've tested one—or all!—of these recipes & what you think of them. :gingerbread
And there are more to come!  But remember, I saved the very best (in my not-so-humble opinion, anyway  :eyelashes ) Sweet Spot recipe to put in the actual book.  So you'll have to buy HIDDEN HEIR to get your hands on that one. :mwah
If you'd like to collect even more great recipes, or maybe share a few of your own, be sure to sign up for my HappyBookers YahooGroup. We're doing a bit of a recipe swap over there, as well, in preparation for the release of HER LITTLE SECRET, HIS HIDDEN HEIR. :flip
Comments
6 Comments • Comments Feed