This week's recipe leading up to the release of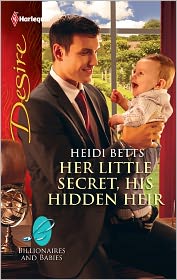 my June Harlequin Desire, HER LITTLE SECRET, HIS HIDDEN HEIR, isn't one of my favorites.  But it is one of Madame Mommy Dearest's favorites.  And it's also a recipe belonging to the Queen of Snark matriarch of The Dungeon, our very favorite Maxine.
This is also one of those cookies where you throw in just about everything but the kitchen sink.  Or you can throw that in, too, but don't blame me if you crack a tooth.
MAXINE'S THROW-'EM-TOGETHER COOKIES
(stolen from a Hallmark newsletter several years ago)
Ingredients:
1/2 cup (1 stick) butter, softened
1/2 cup brown sugar
1/2 cup granulated sugar
1 egg, beaten
1 teaspoon vanilla
1 cup flour
1/2 teaspoon baking soda
1/4 teaspoon baking powder
1/4 teaspoon cinnamon
1 cup rolled oats
1 cup cornflake crumbs (Buy them already crumbled. Why bother
crumbling them yourself if you don't have to?)
1/2 cup coconut
1/2 cup chopped pecans
3/4 cup mini chocolate chips (Optional:  For color, you can replace mini chocolate chips with mini M&Ms, but since we are currently boycotting M&M/Mars products because they torture & abuse animals, I don't want to tell you that.  I will, however, say that you can replace the mini chocolate chips with mini candy-coated chocolate pieces, if you like.)
Directions:
Preheat oven to 350 .
Cream butter & sugars, then add egg & vanilla. Stir some more.
Add dry ingredients. Mix all together.
Throw in oats, cornflake crumbs, coconut, nuts, & mini chocolate chips (or mini candy-coated chocolate pieces).
Drop dollops of dough about 2 inches apart on cookie sheets lined
with parchment paper.
Bake until done, about 10 minutes.
(Makes about 4 dozen cookies.)
If you'd like to collect even more great recipes, or maybe share a few of your own, be sure to sign up for my HappyBookers YahooGroup. We're doing a bit of a recipe swap over there, as well, in preparation for the release of HER LITTLE SECRET, HIS HIDDEN HEIR. :flip
Comments
6 Comments • Comments Feed