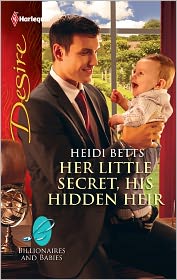 We've got another great recipe for you today, to celebrate the lead-up to my bakery-themed June Harlequin Desire, HER LITTLE SECRET, HIS HIDDEN HEIR.
This one isn't in the story, either, but that doesn't mean it isn't yummy. :eats
WAPITI WALNUT PIE
Ingredients:

1 unbaked pie shell
3 eggs
1/2 cup sugar
1 cup dark brown corn syrup
3 tablespoons Jack Daniels whiskey
1 1/2 cup chopped walnuts
1/2 cup mini chocolate chips (optional)
Directions:

Blend eggs, sugar, syrup, and whiskey.
Sprinkle pie crust with nuts & chocolate chips.
Pour egg mixture over nuts.
Bake at 325 for 45 minutes.
Cool before cutting, but best if served a little warm.
Optional: Serve with whipped cream or vanilla ice cream.
By the way, we're doing a bit of a recipe swap over at my HappyBookers YahooGroup in preparation for the release of HER LITTLE SECRET, HIS HIDDEN HEIR, too.  So if you'd like to collect even more great recipes, & maybe share a few of your own, be sure to sign up!
Comments
13 Comments • Comments Feed