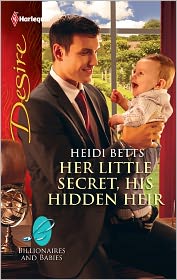 Have you read HER LITTLE SECRET, HIS HIDDEN HEIR yet?  I keep promising a quiz & a couple of really cute giveaways, & they are on their way.  I swear!
Keep an eye out next week, when I will finally get off my butt & share the fun stuff. Really.  I mean it this time.
In the meantime, you'd better read the book & brush up on your Marc & Vanessa trivia so you'll be ready. :chick
Okay, so I promised a final recipe—submitted by one of our very own Darlings of The Dungeon—last week.  But then I got a little sidetracked by my melancholy at not attending the RWA conference in New York.  So I filled the week with mopey-dope stuff instead.  (Hey, the Black & Blue Party was fun, wasn't it?! :tongue )
I will make it up to you today, though!
All of the recipes you guys submitted sounded fabulous, & I really, really am going to try them.  (Just as soon as I'm finished with this deadline & get back to actually cooking instead of simply eating Spaghetti Os straight out of the can. :spaghetti )
But the one I think I'm going to post again…maybe because it makes me hungry every time I think of it *g*…is Carole's recipe for chocolate cake that's supposed to taste like fudge.  Chocolate cake & fudge—omg, gimme now! :eats
DARLING CAROLE'S CHOCOLATE FUDGE CAKE
Pre-heat oven to 350-degrees.
In a large bowl, combine:
2 cups flour
2 cups sugar
2 eggs
1 teaspoon baking soda
1/2 cup buttermilk
1 teaspoon vanilla
In a saucepan, mix:
1 cup water
1 stick margarine
4 Tablespoons Hershey cocoa
1/2 cup vegetable oil
Heat on stove and bring to a boil.
Pour liquid into bow of dry ingredients and beat well.
Place in 11×17 sheet pan.
Bake for 25-30 minutes.
In the same saucepan that you used for the chocolate mixture, combine:
4 Tablespoons of Hershey cocoa
1 stick margarine
6 Tablespoons milk
Melt on low heat, then mix in about 1 box of powdered sugar.
Let cake cool for about 5 minutes before spreading frosting on cake.
When it cools, it tastes like you're eating fudge!  Yum!

I hope I got everything right, Carole!  Please let me know if I need to make any corrections.  I also didn't know what this cake looked like when it was ready to eat, so I kind of…um, "fudged" that, too. :wink
Enjoy, everyone!
Comments
3 Comments • Comments Feed