My last TV Talk post was getting kind of long, so I decided to break it up.  Here are the rest of this season's new shows I've checked out, along with my not-so-humble opinions of them.  Starting with the best one first…
Galavant (ABC) — If you haven't been watching this one, you are missing something really special.  A musical medieval comedy that is just a hoot & a half.  From the very first note of the opening song, it had me hooked.  The humor is slick, though, so if you're not paying attention, you can miss some of the funniest stuff.  I recommend doing what I did—watch it more than once. :smiley22
The most disappointing part of this show is that it's a limited-episode series, set to run for only four weeks.  I'm already hoping it gets a Season 2 (through 20).  Or turn it into a movie.  Or an unlimited-episode series.  Whatever the case, KEEP IT ON THE AIR!
Bad Judge (NBC) — Bleh.  I like a good sitcom & had hopes for this one, but it fell flat.  Worse, it's kind of stupid & disjointed.  So delete that one from the DVR, post haste.  (Note:  I've since heard this one was cancelled, & all I can say is, Good call, NBC.  Probably should have done that after the first episode. :smiley26 )
Benched (USA) — Now this one, I like!  It's what I'd been hoping for from Bad Judge—meaning, it's actually FUNNY!  A snarky, smart-ass kind of humor that had me laughing from the very beginning of the pilot episode & kept me laughing to the very end.  Episode 2 wasn't quite as laugh-out-loud funny, but it's still amusing & I'm still loving it.  If you haven't caught it yet, I definitely recommend you check it out. :smiley28
Constantine (NBC) — Oh, yeah, I am liking me some John Constantine! :smiley20  Not only is he cute & irreverent, with an uber-sexy accent, but the paranormal, demon-fighting thing is pretty awesome, too.  Never one to give up beating a dead horse, though, I can't help wondering how NBC could cancel Dracula because it was "too expensive," when this one is clearly no cheap magic show, either. :smiley31
(FYI:  Does anyone remember the very short-lived spin-off series Criminal Minds: Suspicious Behavior?  If so, you may recognize John Constantine (Matt Ryan) from that show.  I didn't put two & two together myself until ION started running repeats of CM: SB, but for the record, I like him on both! :smiley29 )
The Librarians (TNT) — Keeping in mind that I've never watched any of the Librarian made-for-TV movies, I didn't know what to expect.  But with Christian Kane in the lineup, there's no way I was going to miss this one! :smiley9
Well, I'm trying to like it, I really, really am.  The first double episode was hard for me to get through; I'm not a huge Rebecca Romijn fan, & she had me gritting my teeth the entire two hours.  Noah Wylie's "THE Librarian" character really rubs me the wrong way, too.  Is he this annoying in the movies or just the series? :smiley16  And yet, I like all of the other actors/characters, & CK is awesome, as usual.  (He really should have been the lead, you know.  Take note, TNT—Christian Kane really should have been the lead of this show! :smiley31 )  So I'm sticking it out, & it is getting better.  The Christmas episode (with Bruce Campbell as Santa) was exceptional, & things seem to be coming together more with each episode—the humor, the characters, the acting, the storylines…  Given time, this may end up being a truly wonderful series.  For the time being, though, it's no Leverage. :smiley7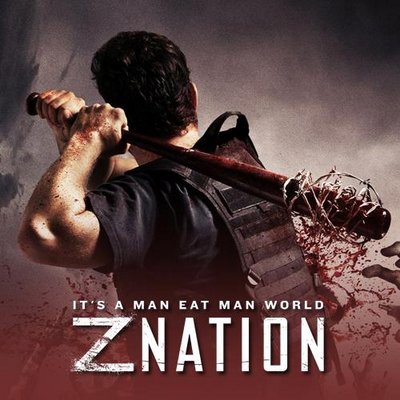 Z Nation (SyFy) — Not great, but not awful.  There seems to be only one point to the series:  get the guy who may carry a cure for the zombie virus in his blood across the country, from Pennsylvania to California—awfully similar to what's been going on with The Walking Dead, wouldn't you say? :smiley16  As is the fact that "everybody's infected" & turns into a zombie whether they're bitten or die some other way…) yet nothing much seems to happen in each episode to move them in that direction.  It's just Let's go!  Wait, we have to fight zombies & deal with disreputable humans first.  Then, Let's go!  No, wait…
It's no The Walking Dead, that's for sure.  Yet I continue to watch because…well, 
, & once in a while there's something interesting or really gory that pops up.  I'll probably last about as long with this one as I did with Helix…which is to say, not long.  But it's zombies, & have I mentioned…
[NOTE:  Well, they lost me with Episode 6.  Not only did they kill off my favorite character, but it was a very manipulated, forced way of doing it, which totally annoys me.  I may keep watching once in a while—again, just for the zombie action—but I certainly don't care anymore. :smiley21 ]
Speaking of zombies…  Well, sort of…
The Strain (FX) — I don't know if this one technically counts as "new" because it just wrapped up its first season, but it is new-ish, & in case I haven't mentioned it before, I have to say how much I really like this show!  It's like a mini horror movie every week—& y'all know how much I love horror movies—& every dang week, this show both creeps me out & keeps me on the very edge of my seat.  I can't wait for Season 2 to begin!
Legends (TNT) — Another one that recently wrapped up its first season.  I don't know if I'm head over heels for it, but I do love me some Sean Bean…especially when he's playing a good guy instead of a bad one. :smiley25  This show actually puts me a little in mind of the short-lived Missing; not because they're similar, but because Missing also starred Sean Bean & I'm still annoyed it was cancelled. :smiley31  So let's see if this one fares a bit better.  It is quick-paced, sometimes intense, & I not only care about the main character, but I'm darn well worried about him.
So how about you—what brand new (or at least "newer") shows have you added to your Gonna Check It Out/Must See Lists?  And what do you think of them so far? :smiley24
Comments
15 Comments • Comments Feed