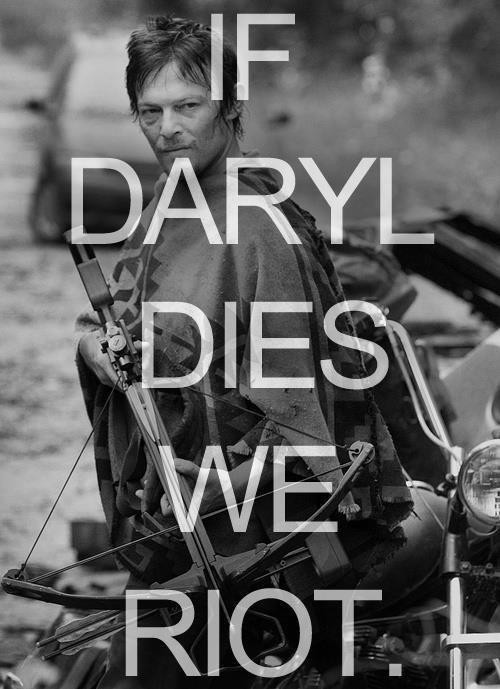 OMG, he's dead, isn't he?  Did they kill my Darling Daryl?
Okay, so here's the deal…I haven't actually been watching The Walking Dead since it returned in February.  I know, I know—what is wrong with me?! :dizzyegg:
And it's definitely not because I don't still LOVE the show, because I do.  I really, really do! :chocoyum:
It's because…well, way back in November, toward the end of the first half of Season 6, I got very nervous when it looked as though my Darling Daryl might be in trouble.  Y'all may recall "Always Accountable," "Heads Up," & "Start to Finish"—which are still on my DVR, but which I haven't yet watched because I wasn't sure I could handle what may (or may not) have happened to Glenn & the previews showed Daryl injured & lost(?) in the woods. I had also just moved into the New House, so things were very much up in the air, & I didn't feel like I had the emotional wherewithal…or was in the "right place" mentally…to watch them yet.  It was just TOO. MUCH.  :feedme:
So I kept them & told myself I'd get them watched before Season 6 returned in February. But, um…that didn't happen. :ihatemornings:
Then the new episodes started airing, but I couldn't watch them because I hadn't watched the older ones…
And then the new episodes started piling up, & I started to feel overwhelmed, & the damn show makes me so freaking nervous every week that I crawled right back into my "not emotionally ready" zone.
But now I'm seeing things online.  Not spoilers, exactly, but…hints…that something is very wrong.  That something is going on that may very well send me into a meltdown.
And how the heck am I supposed to jump in & catch up now, when the threat to my mental wellbeing is in even more danger? :rain:
If my Darling Daryl really is dead…don't tell me.  Or tell me, but not until after you've called 911 & alerted them to my imminent death via pureed heart muscle & massive tear-induced dehydration. Because I honestly, honestly don't think I can deal.
Comments are closed.