Word of the Week:  Mondaze — The daze you find yourself in due to it being a Monday.
And…I'm done with Twilight.
No confession there, & no shame, either.  I'm just…done.
I made it one whole week, 140 pages, before realizing life is too short. :crazy
My goal, really, was to check out the writing & see what all the hype is about.  Well, I'm still not sure about the hype, & now I know that while the writing is okay, it's nothing that's going to send me into squealing fangirl glee.
Basically, I was just too bloody bored.  (Pun intended, I guess. LOL)  Once in a great while something interesting would happen, but in between were pages & pages of I-don't-give-a-sh*t boredom.
And I cannot count how many times I rolled my eyes over every guy in the school lusting after this nothing-special girl.
Or that hundred-year-old vampires were attending high school.  For, what, the nine hundredth time?!
Or that the whole freaking thing was taking so long to get to the point.
So I tried, but I think I can safely say the Twilight phenomenon is not for me.  I may watch the movie(s) to find out what eventually happened—& catch up on that whole sparkle thing—but otherwise I am moving on.
Let's go back to making fun of it, shall we?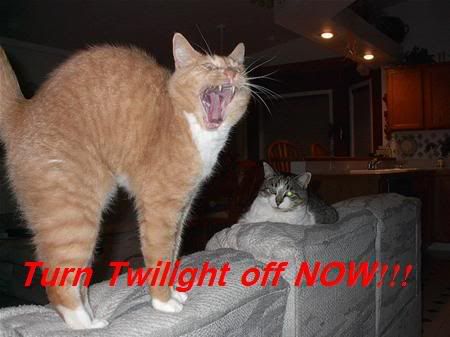 Comments
16 Comments • Comments Feed