Only three more weeks until PROJECT: RUNAWAY BRIDE! :reindeerlights
This week, I thought I'd tease…I mean, share some insights into the characters of PROJECT: RUNAWAY BRIDE, Reid McCormack & Juliet Zaccaro.  And when I say "insight," I mean a peek into their brains.  (But not in a scary zombie way. :winkcookie )
Reid:  It said something about his personal life that he was in the office, working on a Saturday, Reid McCormack thought.  And that he was happy to do it.
Juliet:  The one thing she knew for sure was that she was going to have a lot of explaining to do when she got back.  To everyone.
Reid:  One thing was for certain.  He wasn't going to walk away this time.  He wasn't going to let another woman give birth to his child without letting him be a part of that child's life.
Juliet:  A left brain/right brain thing allowed her to work with focused intent while also humming one of her favorite songs, lyrics and all.  The only problem was, the song she started to sing—the one she couldn't get out of her head no matter how many other tunes she tried to hum instead—made her think of Reid and the first time she'd spent the night with him.
Reid:  Juliet had walked out on him twice now, and both times he'd let her go.  She wasn't going to get a third chance.
Juliet:  It wasn't just the sex, it was the nearness, the intimacy.  When they were together like this, without quarrels and conflicts between them, things were amazing.  They connected in a way she never had with any other man.
So what do you think?  Are you as excited for the arrival of PROJECT: RUNAWAY BRIDE as I am? :smooches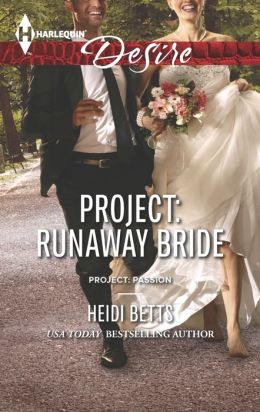 (Book 2 – "Project: Passion" miniseries)
Harlequin Desire #2280
January 2014
ISBN: 978-0-373-73293-7
Runaway Bride's Big Baby Secret
Handbag designer Juliet Zaccaro should be walking down the aisle, so why is she running out of the church instead? Because she's just found out she's pregnant, and not by her cruel, distant fiancé! Now it's up to private investigator Reid McCormack to bring her home. But once he finds her, he'll make sure she doesn't go back to her fiancé—especially since the baby she's carrying might just be Reid's. Even as Juliet denies their explosive chemistry, can Reid convince her that there's more between them than a baby bump?

Order PROJECT: RUNAWAY BRIDE Now!
Amazon :: Kindle ebook :: Barnes & Noble :: NOOK ebook eHarlequin :: Books-a-Million :: Indiebound :: The Book Depository (free international shipping) :: !ndigo :: Amazon.ca

Comments
4 Comments • Comments Feed