I recently received another fabulous, 5-kissy lips review for MUST LOVE VAMPIRES from Victoria at Two Lips Reviews, and you know I have to share!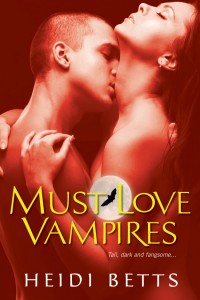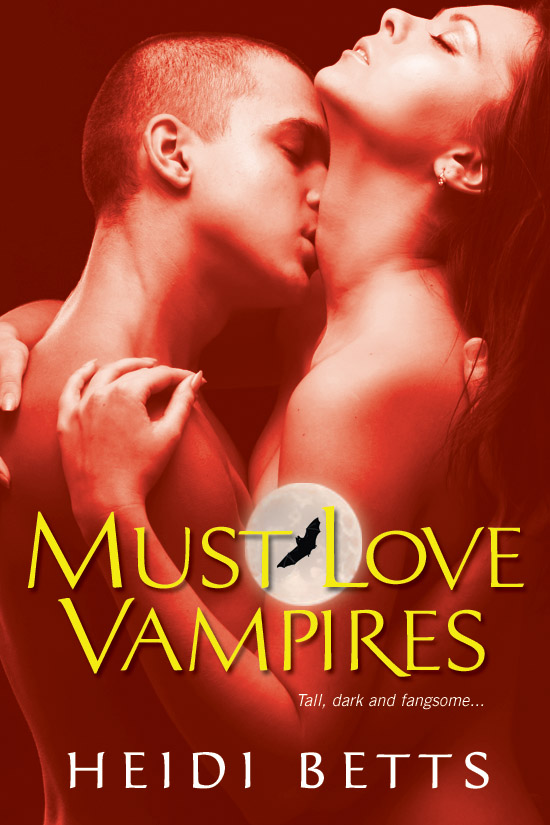 Can twins Chloe and Chuck Lamoureaux find love in Sin City with two vampire brothers?  I dare you to hold back your laughter as you furiously flip the pages of Heidi Betts's MUST LOVE VAMPIRES to see how two jaded vamps fall for their mortal loves.
"Vampnapped"
Chuck Lamoureaux is convinced billionaire casino owner Sebastian Raines is a creature of the night.  All she needs is a little more digging and she'll have the tabloid scoop of her life!  Deciding to go undercover at his casino, will Chuck get more than she bargained for when she smacks right into Sebastian one fate-filled evening?
Sink your teeth into one hilariously funny novella in "Vampnapped."  I couldn't put Ms. Betts's story down as I witnessed the impossible—seeing the worldly vampire Sebastian falling hard for a mere mortal reporter.  Thinking he'd have a night of lust with Chuck then wipe her mind clean with a vampire whammy, he's entranced by not only by her hot body but her wicked sense of humor.  I loved how Chuck refused to be cowed by Sebastian, standing her ground during their confrontation.  "Vampnapped" was one erotically fun story, making me turn its pages to discover if Sebastian and Chuck would become a couple after their lust-filled night.
"Married…With Fangs"
Chloe Lamoureaux is growing tired of being a Vegas showgirl.  She wants to find a man who's loaded so she can trade in her elaborate costumes and pumps for an oven and vacuum. Thinking she's got found 'the one', she's quite happy to say "yes" to Aidan Raines.  Will she think differently when she finds out Aidan is a vampire?
Oh, what secrets we keep from our better halves!  Heidi Betts's "Married…With Fangs" is one tension-filled novella as Chloe and Aidan come to terms with his secretive past and her hidden agenda.  Deciding to take their relationship to a higher level, Aidan feels Chloe is a kindred spirit and decides to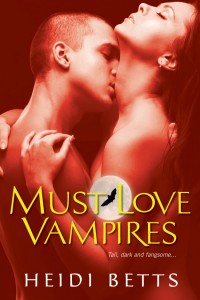 come clean to her, revealing his true self.  Chloe freaks out when she learns Aidan's a vampire, which throws their relationship into turmoil.  After a brief time of reflection Chloe decides she's a hypocrite because she's still keeping her secrets hidden.  Can two people who are obviously meant for each other care enough to really lay their souls bare?  Enjoy "Married…With Fangs" as Ms. Betts pens a supernatural tale which will stir not only your soul but your libido!
He he—I love it!  Thank you so much Victoria & Two Lips Reviews, you have totally made my week! :fanglips
Comments
3 Comments • Comments Feed