This may seem a little late, but since we haven't touched on it yet, I thought I'd ask how everybody's Christmas went. I hope you had a wonderful holiday, filled with love & fun & all the great stuff holiday specials tell us this time of year is really about. :tree
At Casa del Heidi, things were quiet, which is just how I like them.  It gave me a chance to write a little, read a little, & watch all my favorite holiday programming.  This year, I finally got around to watching both Prep & Landing & Prep & Landing: Naughty vs. Nice.  Loved them!  They are definitely being added to the Christmas viewing rotation.
Things were kind of quiet gift-wise, too.  Which is fine…Christmas isn't really about the presents, right?  They're just a fun added bonus. :gift   If fact, I've still got a pile of wrapped presents sitting here, waiting to be delivered to a friend of mine…we just haven't gotten together yet.  But that's okay—it will help make the holiday spirit last a little longer. :candycane
Madame Mommy Dearest did get me the cutest book, though, called Paws for a Moment with God:  Devotions Best Enjoyed in the Company of a Cat.  I'm not uber-religious, so I have to admit I had a silent groan moment when I first saw it.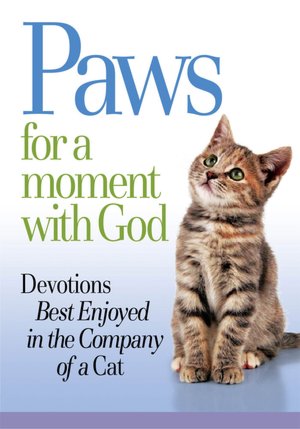 You know what I'm talking about…that split second when you open a gift you don't like & have to mentally prepare yourself for the faux Ohmigosh, it's wonderful—thank you so much, I love it!  Yeah, that. :reindeer   But it really is wonderful & I really do love it! :reindeer2   It's the cutest thing ever, actually…each page has a poem or quote or story about cats, then a write-up about applying those thoughts & attitudes to your life.  I highly recommend it, if you can find a copy for yourself…especially if you love cats.
She also got me about 15 bags of yogurt-covered raisins because they can be hard to come by & she knows how much I love them.  (Christmas shopping at the grocery store is a time-honored Betts family tradition, thankyouverymuch! :butt )  And I got her new checks because she was down to her last pack.  I know it doesn't sound like much, but they were freaking expensive.  Especially since the ones she likes best are
not only super-cute, but donate money to animal causes.  (Which always costs a little more, but is totally worth it, right? :snowhi )
I also only got one things for The Kittehs this year, when I normally go overboard. But I only buy stuff I think they'll really enjoy when I see it, & this was all I found that I thought would amuse them—a
Snuggle, Scratch, & Rest Bed.  And I was right—they love it!  Fought over it Christmas Day, actually, & now anxiously await taking turns sleeping in it.  Yet another excellent purchase for the kiddos, & I suspect I'll end up buying a few more before long, just to keep them happy.
And that's about it.  Believe it or not, as unexciting as all of that sounds, it was a really nice Christmas.  Just enough friends & family to give the season a nice, warm glow…not so many that it made me want to increase that glow by pushing someone into a bonfire, if you know what I mean. :houhoh
My only complaint was that we didn't get snow this year, so we didn't have a White Christmas.  We got a light dusting a couple days later, but that just doesn't count. :snow
So how about you—how was your Christmas?  What did you do?  What did you get?  Who did you see?
However you spent the holiday, I hope it was the very best ever! :xmas
Comments
10 Comments • Comments Feed