Word of the Week: What Would Jesus Text? — Simple text messaging etiquette—do not send text messages that might hurt another person or ruin their reputation. Stop and think: " WWJT?"
So how many of you have seen the adorable animated film Igor?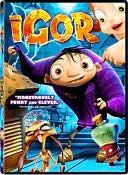 I love this movie so much!  And the funny thing is that I actually avoided it for a really long time.  I kept seeing that it was on TV, but even though I knew John Cusack voiced one of the characters, I just couldn't work up the enthusiasm to actually watch it.
And then one day I did!
What an idiot I was not to watch it sooner!  Dumber than the majority of Igors this movies is about! :beerlaugh
Which is why Mistress Heidi & I have decided to make Igor Required Dungeon Viewing.  That's right…watch it or face the consequences.  And they could be brutal.
Seriously, though, how could you possibly resist a movie that's laugh-out-loud funny, chock full of evil, & even has a character named Heidi walking around?  An evil Heidi, no less!
Not only that, but it has more fabulous lines than you can shake a whip at.  For instance:
"Not the smartest scientist. His last invention was an evil lasagna. Didn't kill anyone, & it actually tasted pretty good."
"So how do we get this evil bone up & running, huh? We kick it, we slap it, we take it to the movies & call it Irene?"
"It would be really swell if you didn't go psycho girlfriend on me right now."

"Hey, I don't come down to where you work &…oh, that's right. You don't work."
"Wait—no kissing Heidi!"
:beerlaugh  What can I say—it's a hoot! You must, must see it as soon as possible, if you haven't already.
The Mistress has spoken. :devil
Now go, watch, enjoy…  You will not be sorry.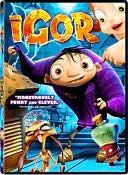 Comments
7 Comments • Comments Feed