I am very excited & delighted to welcome our very own Darling of The Dungeon PAMELA CAYNE to WIPs and Chains today!
:img13
Growing up in Montana, playing the French horn, and earning in a degree in physics led Pamela Cayne to the one thing nobody expected her to be:  a writer—and a romance writer at that!  Now, in between watching Doctor Who and the Food Network, Pamela writes love stories about people who—no matter how broken or damaged they are—find that one person who understands, accepts, and loves them anyway.  She lives in the southwest with her husband, also a writer, where they enthusiastically discuss better ways to torture their characters.
I first met Pamela when she bought me—yes, literally purchased me

—from one of Brenda Novak's online auctions for diabetes.  I was on sale to do lunch (or breakfast or dinner, depending on mutual schedules) at that summer's Romance Writers of America conference.  Though I didn't know what to expect (trust me, these "blind dates" can either be really great or complete torture…& not the fun kind that Mistress Heidi engages in :img19 ) but I do remember Pamela saying something along the lines of, "As soon as I saw the Faves list on your website, I knew I had to meet you!"  I don't know how Pamela felt about our get-together, but I had a blast, & we've pretty much been friends ever since! :img25
And now I get to share her with the world, letting her be our guest of honor while we discuss her debut romance release, THE FIGHTER AND THE FALLEN WOMAN.
Are you ready for this?  'Cause it's gonna be good!  Let's put her on The Rack, shall we? 
What is your favorite color?  My favorite color is blue, though lately I've been really getting into a deep red, like a cranberry. And now I'm craving vodka…
Favorite song?  Just one? Can't be done. I love Mumford and Sons, Great Big Sea, Rat Pack, Garth Brooks and Ed Sheeran to name a few. And 80s music—looooooove 80s music. I will say my writing is very music-based, so sometimes favorite songs/performers depend on the book I'm currently working on.
Favorite movie?  Oh, wow—again, just one? Don't think I can do it here, either. Love The Princess Bride, The Mummy, Strictly Ballroom (or any Baz Luhrmann movie!), Hugo, Twister, Galaxy Quest ("Never give up, never surrender!"), almost any Guy Ritchie film, The Proposal (Ryan Reynolds? Sandra Bullock? Betty White? C'mon—it's almost perfect!) or basically anything with a good love story.
And of course, favorite book?  *snorts*
What was the first book in your chosen genre that you remember reading, or that made you want to write the same?  Julie Garwood. My first book is basically a fan-fic of hers, but where I'd loved other historical romance authors, she was the first author that made me want to write one.
What do you think of Heidi? She's great, right?  Hell yeah, she's great!!! Why do you think she was one of the top acknowledgements in my book? Seriously, she is the sweetest, nicest, most supportive, funniest, BESTEST HUMANS EVER! If everybody had Heidi in their corner, world peace would be solved, all animals would have a happy home, and Firefly would still be on the air.  (Heidi primps & preens & pats herself on the back.  And also says, Hell, yeah, Firefly would still be on the air. :img20  
And lookee-lookee, here's the touching, flatter-will-get-you-everywhere acknowledgement…  (if you can read it, 'cause I'm not great at screen shots :img11 )
Now back to Pamela… :img4
How did you get started writing?  I tried writing some poetry, even though I'd never really read any.  My dear, sweet, very patient husband offered me some tips, but the best one was, "Write what you love." Never looked back.
Tell us a little bit about your first sale.  I was just about to self-publish, desperate to get my book out in the world, when I saw there was going to be a #CarinaPitch event on Twitter the next day. Polished up all 140 characters, and two editors asked to see it. Next thing I know, I'm getting The Call from Angela James—on April 1st, no less! :img35
Fill in the blank—If you like [blank], you'll love Pamela Cayne!  If you love dark, gritty Victorian romances, you'll love Pamela Cayne!!! (I put in an extra two exclamation points, just for flavor, yanno… :img10 )

You made your debut in March with THE FIGHTER AND THE FALLEN WOMAN.  Tell us about it and why we'll love every word.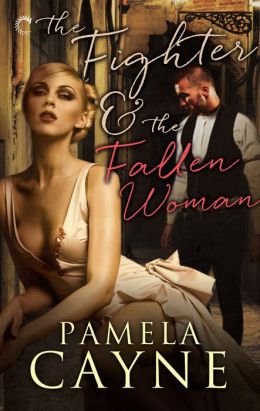 The Fighter and the Fallen Woman is the book of my soul. I adore historical romance—just finished reading Julia Quinn's Bridgerton series again for the upteenth time—but I go totally nuts for a really gritty, blood-sweat-and-tears love story. Combine those two loves and I had to write a dark historical romance, exactly the kind I wanted to read. There are no titles or dandies in my story, no balls or soirees—just a prostitute who's terrified that the man she was just made to kiss could see the woman behind the whore, and a fighter who thinks he's found the one woman who not only understands the dark world he lives in, but accepts him, anyway. If you've been itching for a historical romance with a little dirt on its face, The Fighter and the Fallen Woman is for you! :img32
If your plane crashed in the Andes, would you convince the other survivors to eat Heidi first or last?  I would set the other survivors eating each other, then would carry Heidi to safety on my shoulders so all of her, even her little piggie toes, would return to civilization safe and sound.  (Further intrusive note from Heidi:  Wow, that is some truly hypothetically heroic behavior!  If I ever travel anywhere scary or am traveling anywhere that passes a scary spot, I am totally doing it with Darling Pam! :img24 ) 
If you could write anything—whether in the same genre/sub-genre as you're writing now or another—what would it be?  Hmm…great question. I do adore writing my dark Victorians, but could have some fun with a kick-ass thriller heroine.
What are you currently working on?  I'm working on my next dark Victorian romance about a woman who desperately wants to join her brother's gang but falls in love with the man she needs to defeat in order to win her place.
LIGHTNING-FAST LASHES:  
Leather or lace?  Leather, all the way.
Devil or angel?  Why do I feel like either answer is going to get me struck by lightning? :img33
Angel food or devil's food?  Devil's food, definitely devil's food!

Hemlock or arsenic?  I swear, Officer, I don't know what this question is about! I was helping a little old lady across the street that day. Pinky swear! :img34
Blood, sweat, or tears?  Definitely all three.
Boxers, briefs…or commando?  Commando—I love a man out of uniform!
Cowgirl or missionary? (Hey, get your mind out of the gutter. I was simply asking what you wanted to be when you were growing up. :-p)  Cowgirl, and I have the boots to prove it—yeehaw!!!
See, I told you she was made of awesome!  And you can visit her any time you like by going to her website:  PamelaCayne.com
But that's not all! :img5  As though she even needs to add a cherry on top of all that awesomeness, Pamela has also graciously offered to give away a copy of her debut Carina Press release! :img9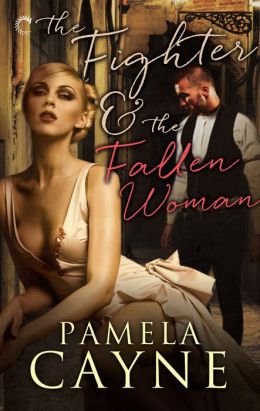 Simply ask a question or leave a gushingly enamored comment for Darling Pamela & you'll be entered to win a copy of THE FIGHTER AND THE FALLEN WOMAN—Kindle edition, so there are no restrictions on this giveaway. :img10
Winner will be announced on Sunday, May 10th, & either I or Darling Pamela will contact you for your info.
Good luck & enjoy chatting with our fabulous guest!
:img15
Comments
24 Comments • Comments Feed