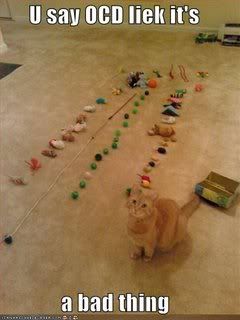 On more than one occasion, & by more than one acquaintance, I have been accused of being slightly Obsessive-Compulsive.  Some of them were teasing.  Some were not.  And some were probably trying to tell me something serious, but used a teasing tone for fear I'd go medieval on their asses. :angeldevil
And, yes, I admit it…I do have some slightly obsessive-compulsive tendencies.
Like the fact that there are many instances where I believe there's a place for everything & everything should be in its place.  Oh, my desk & office are a disaster area, & you can catch me about ten times a week flipping out because I can't find a damn thing in all this mess! But when it comes to dishes being put away or my promo items being organized…there is a place for everything & everything needs to be in & stay in its place! :devil
Or how I have a tendency to buy things that I like in bulk.  Like liquid soap.  I found a pink grapefruit fragrance I love & traveled around to every store in a fifty-mile radius buying every bottle I could find.  I found a type of tea I like & did the same.  And of course I have to have just about every new romance that's released, whether I think I'll get around to reading it in the near future or not. :cantputdown   I mean, really—that isn't even close to being the relevant!
But you might find it interesting to know that scientists actually believe everyone has a touch of OCD…it's only the levels of obsessiveness & compulsion that vary.  So there! :tpspspspt
And here is where my touch of OCD comes in handy:
You know I'm working on a new Harlequin Desire set in Charleston, South Carolina, right?  Well, I just finished a vampire romance set in Las Vegas, so the rapid switch to a completely different geographical area isn't an easy one.  Which means I need to research!  And by "research," I mean start reading books & watching TV/movies with a Southern slant.
The first thing I did was jump on the internet & do a search for Southern-set movies, television, & romances.  (Which wasn't as easy as you might think.  You can find anything on the world wide web, my shiny white buttocks! :mad )
And what did I do then?  Did I have to make a list & run to the nearest bookstore, or hop over to Amazon or BN.com & start ordering?  No, I did not.  I simply went to my obsessively, compulsively organized book lists, then dug into my obsessively, compulsively organized TBR boxes, & within minutes I was reading a Southern-set romance. :dancing
Ha! 
That's right—for once, my OCD paid off.  Take that, Mr. Tax Man, who asks me every year why I need to buy so many books!  They're research, dammit!  Because I never know what the heck is going to crop up—case in point!
—& I need to be prepared.
Okay, yeah…that last part is probably definite OCD.  But in this case, that's a good thing. :gotcha
Comments
11 Comments • Comments Feed