Word of the Week: celebrahate — To pretend to share joy with another, while secretly experiencing strong feelings of jealousy, and doing a poor job of concealing said jealousy.  Giving disingenuous compliments while sipping a large cup of Haterade. This action is almost always painfully obvious to others. Derived from a combination of the words "celebrate" and "hate."  (For example — Angel Heidi: "Did you hear that Rachel Romance Writer is a RITA finalist this year?" Devil Heidi: "Oh, yeah…good for her."
Angel Heidi: "Girl, you are so celebrahating on her!"
Welcome to the First (possibly Annual) No RITA for ME-ta Party here in The Dungeon!
But don't let the title fool you—Golden Heart non-finalists are welcome, too.
That's right, this is a party for those of us who did not get "The Call" last week informing us that we're finalists in Romance Writers of America's esteemed RITA & Golden Heart Competition.
This is the day we gather together & shout, "We don't need no stinkin' RITAs!"
Oh, yeah, they're wonderful & fabulous, & if we had gotten a call, we'd still be bouncing off the walls with excitement.  But we also know that not getting a call means absolutely nothing.  Admit it—we've all read RITA finalist & even winning titles that were so-so at best.  And we've all read books that never made it close to finaling that were so awesome, they should have forgone the entire ceremony & simply handed the author an award right then & there.  (I fall into the latter category, of course. :Pretty )
In fact, I would actually love to see everyone share their stories of why not finaling in or winning the Golden Heart or RITAs means absolutely nothing when it comes to the success or longevity of your publishing career.  Who's game?
So if you've finaled this year in the "No RITA (or Golden Heart) for Me-ta" Category, come on in!
The fruity, frilly girly drinks are flowing like a waterfall…Cosmos, Apple-tinis, Sex on the Beaches…  (But no margaRitas or Manhattans.  Those are strictly forbidden in The Dungeon today, for obvious reasons. :devil )
The music is loud & a-rockin', starting with your favorite & mine—Gloria Gaynor's "I Will Survive."
And the full bevy of our very hot Dungeon Hotties are on hand, awaiting your every pleasure.
Want one of them to bring you a drink?  Done.
Want one of them to oil up and do a little striptease to distract you from your woes?  Done.
Want one of them lift you into his arms & carry you off to one of the back cells, where he'll do things to you that will make you forget your own name, let alone that of the little gold statue up there? Done, done, & done!
So come on in…grab a glass & a hottie, & let's get this party started!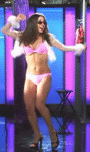 Comments
38 Comments • Comments Feed