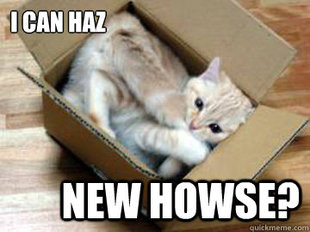 For the first time since this entire ordeal began, I have hope that moving The Kittehs into the new house may not be as traumatic as I feared. :cheer:
I've been packing & moving out boxes & bags & piles for weeks now, filling the jeep over & over again to take to the new house.  I knew I was making progress, but there were moments when it didn't feel like I was making even a dent. :baseball:
The Kittehs handled it well, though. The changes were slow enough & minor enough that they didn't really care.  Once in a while something would disappear or get moved from one place to another, but for the most part the house remained pretty much the same for them.  I've made point of not taking away their cat trees or climbers or scratchers or window seats.
But last week, we had some guys come in & help to haul out some of the larger pieces of furniture.  Dressers, sofa, armchair, one of the beds…  Pippa was totally curious & appointed herself overseer of the entire job, but the others hid until the strangers were gone. :shocked:
I worried how they would react to so many large items being gone, though, when they were used to having them around.  And some of them were sleeping spots, hiding spots, climbing spots…their high sleeping, hiding, & climbing spots, which we all know are cats' favorites. :sunflower:
Amazingly, however, they've seemed totally okay with it!  Not just okay with the missing sofa, entertainment center, & bed, but really intrigued by the new layout of the house.  Not as much junk or furniture around to hide behind or climb on, but they've created new sleeping spots & found some of the "new" areas fascinating. :jumping:
Yay!  This may be very good news.  This might mean that they won't be as terrified of the new house, as long as they recognize a lot of their own things inside.  Do you think that might be possible? :hmmm:
I intend to make sure a lot of The Kittehs' things are in the new house before they get there.  Their tall cat trees in front of some of the windows…  Their beds in comfy spots…  And some climbers & window seats in the basement where they can romp & explore.  Oh, yeah—& of course their litter pans & food/water dishes! :squirrel2:
We're not quite there yet, but the fact that they handled so much being taken away from the old house with barely a blink gives me hope they'll adapt quickly to the new house. :dancin:
Comments
5 Comments • Comments Feed