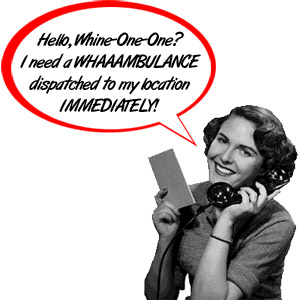 Welcome to another Moan & Groan Monday—where we shake off the happiness of yesterday & allow our inner whiner to come out. :may6
My first M&G this week is that Nature's Variety—a frozen raw pet food company—is changing their formulas.  Up to now, their foods have been appropriate for dogs & cats together, & The Kittehs love their venison.  But now they're reformulating into dog-only & cat-only, & the cat-only formulas are going to come in much smaller (& more expensive) packages, as well as being available in only three flavors…none of which The Kittehs like. :May37
Whaaaaaaa!  What am I going to do?!  I do buy another brand of frozen raw—Primal—but The Kittehs only like the venison version of that, too, & not all of The Kittehs will eat it.  I'm especially worried about Miss Bella who only eats Nature's Variety venison & won't touch the Primal.  Have I mentioned whaaaaaaaaaa!?
Moan & Groan #2 is that two of my favorite shows—NBC's Dracula & Fox's Almost Human—have been cancelled after only one season each. :may38   Stupid, stupid, stupid networks!  They never seem willing to give a show a chance; it has to be an instant success or they kill it out of hand.  Did they learn nothing from the Firefly debacle of 2003? :may12   I am seriously, seriously going to miss them.
A third M&G is that I accidentally stepped on my—or rather Madame Mommy Dearest's—laptop.  Just my heel & just the corner while it was closed, but apparently it was enough to crack the heck out of the screen.  It started out as a thumb print-sized smear at the very top, but has since developed into an actual crack all the way down the center of the screen.  Sigh.
I took it to a repair shop, where they told me they could fix it up for about $300.  And I was willing to pay that because it's a decent machine & I don't use it for major work; just a bit of online stuff & reading manuscripts when it's time to polish them up before turning them over to my editors.  Even MMD really only checks e-mail & does a bit of web surfing from time to time.  But then the repair place pointed out that the laptop is running Windows XP, which is now obsolete; Microsoft is no longer offering updates, which leaves it open to hackers & viruses & all that jazz.
Instead, they suggested I switch over to a refurbished laptop running Windows 7, for about the same price.  That sounded okay to me, so I went with it.  But within a day of having the "new" laptop, I had to return it.  It crashed about eight times in the first two hours I had it running & I just could not deal with that!  Thankfully, they were nice enough to give me a full refund, but now I'm…well, still working on the old laptop, but with the annoying crack & the worry of that XP thing hanging over my head.
What I want & need to do is go on a little shopping trip & get myself a new Macbook.  I'm leaning toward the Macbook Air over the Pro, & it will be great to have it sync to my desktop iMac.  Not an expense I wanted to deal with quite yet, but something that I guess needs to be done.  And I'm almost looking forward to a new toy now that I know I have to get one. :mat27
There's more I could Moan & Groan about (it's been a long week :may17 ), but I'll pass the torch & let you guys share your M&Gs instead!
So what has you grinding your teeth this week?  It's okay, we're all friends here—feel free to vent. :may8
Comments
6 Comments • Comments Feed