It's been a while since we've had a guest here in The Dungeon, but I am delighted to break the dry spell with today's guest, Jill Sorenson.
I recently had the extreme pleasure of reading her very first published book, a Silhouette Romantic Suspense from 2008 called Dangerous to Touch. Yes, I realize that puts me a bit behind the curve, but then, what else is new? And "better late than never" definitely applies to this fabulous read, especially since it inspired me to contact Jill & invite her to spend the day with us.
JILL SORENSON is the RITA-nominated author of more than a dozen romantic suspense novels, including the "Aftershock" series by HQN. She lives in the San Diego area with her family. She's a soccer mom who loves nature, coffee, reading, twitter and reality TV.
I hope you'll join me in giving Jill a big WIPs and Chains welcome as we put her on The Rack & ask her a few of Mistress Heidi's favorite questions.
:spankme:
What is your favorite color?  Blue. Ish.
Favorite song?  I don't know. I really love "Wish You Were Here" by Pink Floyd and "Si no te hubieras ido" by Maná.
Favorite movie?  I don't think I have one. No Country for Old Men is my type of movie. Taut suspense.
And of course, favorite book?  I can't choooose! My favorite last year was Sebastian Rotella's Triple Crossing.

What was the first book in your chosen genre that you remember reading, or that made you want to write the same?  This one is easy. Sandra Brown's Slow Heat in Heaven was a revelation for me. I'd read a ton of category romances as a
teen/preteen, but this was my first single-title romance. It was explicit, it had secondary characters, it was suspenseful. I've joked that Sandra Brown made me a woman. She definitely kicked off my love affair with romance, and with romantic suspense in particular.  (Note from Heidi:  I adore Sandra Brown, but can you believe I've never read Slow Heat? I know—shocking!  Especially when I hear it's one of her very best—& steamiest. :heartburn: )
What do you think of Heidi?  She's great, right?  Absolutely!
How did you get started writing?  I was staying at home with my first daughter, and I needed to do something more. I loved being a mom, but I'd just finished college (and an extra year in a teaching program) when I got pregnant. I wanted to be a career woman and a SAHM at the same time.
Tell us a little bit about The Call—i.e. your first sale.  I'd been writing about two years, and I had an agent. She read Dangerous to Touch (then called "Extra-Sensory" rowr) and said, "This is it. I can sell this." And she did, in a short time, to Stacy Boyd at Harlequin. I think my agent called me first, and then Stacy. There might have been emails. I'm old now and I can't remember that far back.  (Additional intrusion from Heidi:  Stacy is my Senior Editor now—how cool is that? :angel: )
Fill in the blank—If you like [blank], you'll love Jill Sorenson! This is a tough one. I'd love to say Sandra Brown or Linda Howard. Most Romantic Suspense authors these days write military heroes, and that's not really my style. I write gritty stories about criminals, outcasts, lots of Latino/a characters, California settings, and some outdoorsy action-adventure stuff. :sled:
Tell us about your latest release and why we'll love every word!
Against the Wall is my first New Adult romance:
After serving time for manslaughter, Eric Hernandez is ready to turn his life around. He just needs a chance to prove himself as a professional tattoo artist. The one thing that keeps him going is the memory of the innocent beauty he loved and left behind…
It's a sequel to 2011's The Edge of Night, and it's gritty, sexy and suspenseful, so I think my readers will enjoy it. :loverboy:
If you could write anything—whether in the same genre/sub-genre as you're writing now or another—what would it be?  Well, I can write anything right now! I'm not contracted beyond my current project, and I don't have any set plans for the future. I had sort of a career epiphany recently. I'd been scrambling around for years, trying to figure out how to stay published, how to write a breakout hit, how to get in on a trend, etc. It was making me miserable, so I decided to leave the idea of success behind. Now I'm writing whatever I want. It's similar to what I was doing before, but with less angst. I don't know what I'll write next. I'm sure it will be romance. I might try something totally crazy under a pen name.  (Totally justified intrusion from Heidi: Brava, you brave girl—brava! :heartonfire: )
What are you currently working on? I'm working on Off the Rails. It's a sequel to 2012's Caught in the Act, featuring undercover ICE agent Ian Foster and his runaway love, Maria Santos. They train-hop through Mexico on the trail of a fugitive. It's super sexy and exciting. I'm loving it. :loveletter: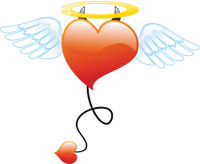 Thank you so much, Jill—that was great! :snowangel:
But our wonderful guest isn't finished yet, my Darlings… Jill has also generously offered to give away an autographed copy Aftershock to go along with her visit today. :candy:
All you have to do is post a question or comment & you'll be entered in the drawing.  And as usual, the winner will announced during our next "Happy Sunday" post on Sunday, February 21, 2016.
**U.S. residents only for the prize, please, but everyone is welcome to stick around & chat with Jill. :swak:
But if you just can't wait for the drawing…just can't wait to get your hands on one of Jill's books & let the hot flashes begin, you'll be excited to hear that Aftershock is currently available at the following links for only 99 cents:
Thank you again for taking the time to visit with us today, Jill, & for a truly enjoyable interview.  I know you've got a lot of fans out there, & if anyone hasn't read one of your books yet, I know you'll pick up a lot of new readers today. :flutterbykiss:
Comments
13 Comments • Comments Feed