No, this post is not going to be about squirrels. Although I do love the furry, nutty little buggers.
I'm not saying that I have A.D.D., either, only that I tend to be easily distracted & sometimes have trouble making up my mind about certain things.
For instance, if you've been paying attention to the WIPs and Chains sidebar over the past week or so, you may have noticed that one of the books under "What We're Reading" changed daily. And it wasn't because I'm a super-fast reader. :crykitty
But after finishing Ice Lake, I just could not decide what I wanted to start next. :kittyquestion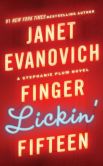 First I picked up Janet Evanovich's Finger Lickin' Fifteen.  To be perfectly honest, I am over this series.  I don't think I've really enjoyed it since they hit double digits, yet for some reason I continue to pick them up & am taunted by the possibility that I might once again love Stephanie Plum the way I did in the beginning.  They also tend to move pretty quickly, which is a plus.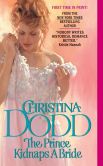 Then Christina Dodd's The Prince Kidnaps a Bride caught my eye.  Ooh, I do love Christina Dodd, & it's been a while since I've read one of her books or a historical.  Yes, yes, this looks much better; I'll definitely start this one next.
But darn it all, it's the third book in a trilogy!  And while that doesn't always bother me, for some reason this time it did. :poopoo I thought about digging up the other two & reading all three in a row, but just wasn't sure if I was up for that.  So I waffled again…
Now what?  Should I go back to pile of maybes from the last time I couldn't decide what to read?  (See Up Next?)  There were some good ones there, but suddenly I just wasn't sure I wanted to start any of them.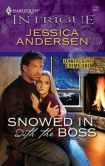 Finally, though, Jessica Andersen's Snowed in with the Boss caught my attention.  I definitely love Jessica Andersen's books & Intrigues in general, & had actually picked up this one last year, but got distracted for some reason.  (No, it wasn't my A.D.D.  It was probably a deadline or RITA books or something very rational & significant. :birdcat )  It even still had a bookmark in it! :laughing
So that's the one I landed on—for good.  Part of me wishes I'd waited until later in the year to read it, since it's so clearly the perfect romance for one of those cold, blizzardy Winter days.  But what the heck!  In for a chapter, in for the whole book. :kittywink
But what about you…which of these do you think you'd have decided to read?
Or if you have read them (one or all), what did you think?  Maybe I'll have to reassess the possibility of reading one of them next after all. :doggielick
Comments
5 Comments • Comments Feed