"Reflect upon your present blessings, of which every man has many; not on your past misfortunes, of which all men have some."
~Charles Dickens
Happy Sunday!
Now that freaking Mercury-in-Retrograde is out of the way, things seem to not only be getting better, but getting much better!  For me, anyway.  I hope the same can be said for you!
This week, I AM HAPPY that the kids are starting back to school & the neighborhood is beginning to quiet down.  Although, those moments when the bus arrives & drops them off again in droves are no fun.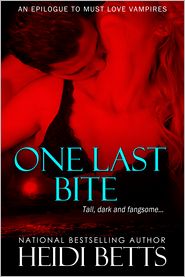 I AM HAPPY that I was finally unveil & share ONE LAST BITE (an epilogue to Must Love Vampires) with all of you!
For those of you who may have missed it, this is a FREE E-BOOK DOWNLOAD I'm offering to complement my October release, MUST LOVE VAMPIRES.  You can get it for your e-reader or even read it right at your computer.  Check out last week's Tease Me Tuesday post or the top of the left sidebar for details.  And spread the word…I want everyone to get the chance to read this—after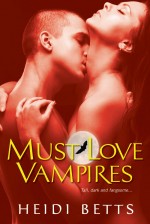 they've read MUST LOVE VAMPIRES, of course; it'll ruin the ending if you read it first. :littlevamp
I AM HAPPY that after a minor emergency trip to the veterinarian, my sweet, darling Precious is going to be just fine.  Late Wednesday night, I noticed she was (don't laugh) holding her mouth funny.  And drooling/licking an awful lot.  When I looked more closely, I realized her whole front right tooth—the really long fangy one—was missing.  Now, she is 15-years-old, & I knew her teeth weren't in the best condition ever, but still… Ouch!
I found the tooth, thank goodness, so she didn't swallow it.  Then I watched her through the night & called the vet's office first thing the next morning.  They were able to fit her in that afternoon, & it went way better than I'd been expecting.  I thought they might have to dose her a little & pull the root…or do surgery to cut it out.  My fear was that whatever was left of the tooth up there in the gum (& there was no tooth visible that I could see), & that sort of thing can get dangerous for a pet at her age.  But instead, the vet said that the gums were (amazingly) already starting to close over & heal.  It's still a little pink & swollen, but he said we'd be better off letting it go, as long as it continued to heal on its own.  So I'm supposed to
watch for redness or more swelling, but otherwise—hands off!  He didn't even give me antibiotics or ointment, which is nice because Precious is SO not an easy-to-medicate cat.
And… I AM HAPPY that the doctor seemed impressed by how well Precious is doing at her age.  Yes, she's getting up there & has some of the expected health issues all older cats do, but he did her annual exam as long as we were there & gave her the thumbs-up.  He also asked what I was doing to keep my kiddos so healthy because he hasn't seen them in a while.  (Other than for their regular check-ups, but there for a while we were having such a problem with urinary infections! ) I told him about their raw diet & filtered water…how I add extra water to their food because cats are notoriously bad at getting the water their organs need to function properly…& that I even use electrolyte solution on Precious's food in hopes of keeping her kidney & liver function up.  He was impressed.  And I came up with the electrolyte idea all on my own. :fangsmiley
Okey-dokey, that's enough from me for one week!
Your turn…  Has Mercury-in-Retrograde disappeared from your rearview mirror yet?  Tell us what great stuff is happening in your life this week!  What are you happy & grateful for that you're willing to share? :show
Now to announce the winner of this week's Free Book Friday two-book bundle: The Unexpected Hero by Rachel Lee & At Close Range by Jessica Andersen…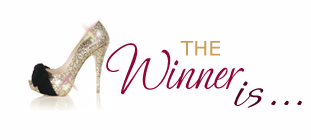 :dancingbat   Dee!!! :dancingbat
Congratulations, Dee!  :drinkonme   (See—it pays to get your butt back to The Dungeon. *g*)  Please contact me with your full name & mailing information, & I'll get your book out to you as soon as I can!
Comments
8 Comments • Comments Feed