Happy Sunday, everyone! How are you doing this week?  Can you even believe it's December already?  Yikes! :humbug:
Even so, I want to use today to say THANK YOU to a bunch of people for making my birthday last month such a delight!

From our own Darling Hollie, I received an absolutely adorable unicorn card, which is just perfect for me because—remember!—the publisher of Entangled, Liz Pelletier, recently compared me to a unicorn.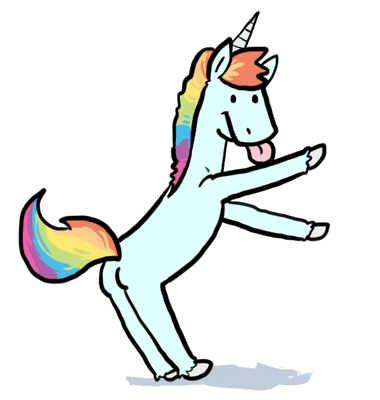 And Darling Hollie included a rather risqué coaster of…well, I'll just say it…a cat's bum.  I don't know why she would say this, but she claims it just "screamed" me. :champagne:  Oh, wait—maybe it's because of a recent post in which I laughed rather hysterically about cat butts.  The coaster makes me chuckle rather hysterically, too.  And in case you're wondering—yes, I've been using it…&, yes, I leave it out when company comes.

Friend & Reader Cathy F. sent me another delightful package, which included a box of yummy assorted teas; some paw print adhesive bath treads to keep me from falling down in the tub (which is a constant worry, believe me! :gingerman: ); a copy of Elizabeth Peters's Crocodile on the Sandbank, which she thinks I need to read; & probably my favorite item, a solar-powered Good Luck Cat whose arm waves back & forth when the sun hits it.  I've got that on the windowsill over the kitchen sink so it can wave its little arm & bring me as much good luck as possible all day long! :monkeyangel:
And Madame Mommy Dearest gave me this assortment of goodies, which I have a feeling she's been saving up for quite a while. :prezzies:  Winnie-the-Pooh notecards…a Winnie-the-Pooh Valentine notepad…a Winnie-the-Pooh Valentine figurine…& a Classic Pooh coin bank… An Olaf (from Frozen) liquid soap dispenser; a tiny cat note holder; a pack of really awesome holographic playing cards with cats on them; three gorgeous new journals; & two new drinks I've been wanting to try—Henry's Hard Cherry Cola & Sweet Baby Jesus! chocolate & peanut butter porter.  For the record, I tried the porter & didn't like it at all…but I still have high hopes for the cola. :cheers:
THANK YOU SO MUCH to everyone for making my birthday such a delight!  Whether you sent a gift or card or simply posted best wishes here in The Dungeon (or on Twitter or Facebook), you made me feel truly special & made my entire November a blast! :hugs:
Comments
2 Comments • Comments Feed