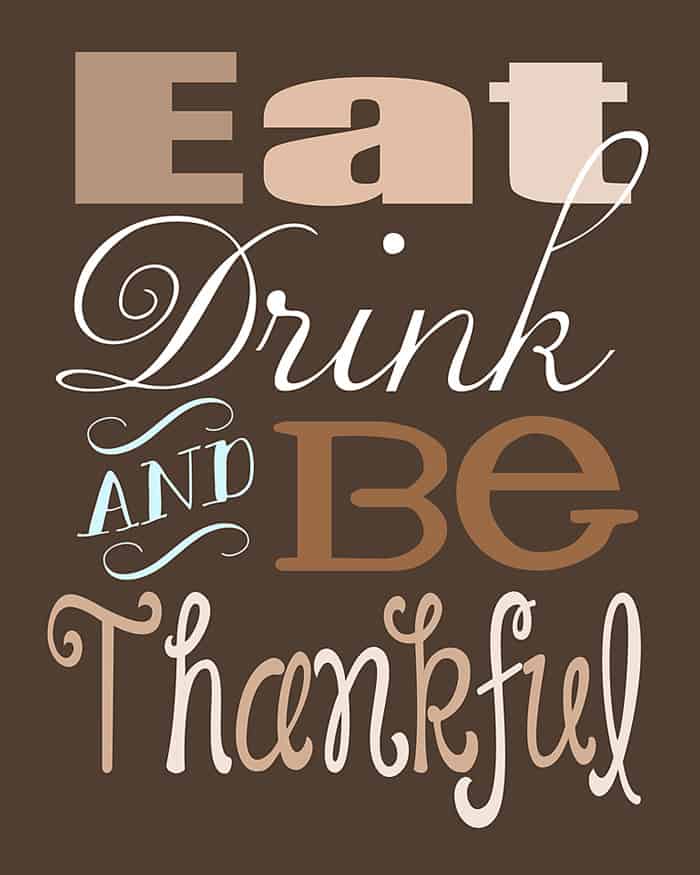 Happy Sunday, My Darlings! It's almost Thanksgiving—are you ready?
I know we'll all be sitting around the dinner table with loved ones soon, counting our blessings, but you know that here in The Dungeon, we try to be thankful every week (every day, if you can manage it :happytable: ), not just once a year. So I hope you're ready to share with us a few of the things you're thankful for this week!
I have much, much, much to be grateful for myself this week…
First & most importantly, I AM HAPPY that Tigger is alive & well after going missing & scaring me half to death! I got up at 7a.m. this past Wednesday to check on Nicholas & make sure they all had enough to eat, only to realize Tigger wasn't around…& that I hadn't actually seen him in quite a while. We're talking 12-24 hours. 
I tried to remain calm as I went around looking & calling for him. And I checked everywhere:  inside the closets & cupboards & drawers; the dishwasher, washer, dryer, refrigerator; high & low, every nook & cranny I could fine. I turned over furniture & climbed on a stool with a flashlight to look down behind some paneling. To no avail. I even went outside & called for him, though I'm so careful about keeping them indoors. But what if he got out? What if he found a hole somewhere in the New House that we don't know about yet? What if he got stuck or fell or got hurt or ate something awful that poisoned him? I spent the entire day see-sawing between faith that he was just hiding & sobbing because I was certain he was lost or dead somewhere. 
  My imagination was not my friend that day, let me tell you.
Then around 6p.m., I was on my laptop in the basement (the only place I have internet connection right now :killturkey: ), & from the corner of my eye I saw a kitteh stroll by. I glanced over distractedly, then did had to blink & rub my eyes to be sure I wasn't imagining things. (I've got two gray kitty cats, y'know—one light & one dark, but not always easy to tell apart in the dark :whereishe: ) But it was Tigger! And he just sort of looked at me with one of those slow blinks. I swear he was saying, "What was with all the yelling this afternoon? I found this great hiding spot & was trying to sleep!"
He was perfectly calm & happy, so I restrained myself from running over & grabbing him up to squeeze the stuffing right out of him, but it wasn't easy. :wishbone: And I was so happy to know he was safe, I immediately burst into tears! (The good kind, at least. :bdaycake: )
I AM HAPPY, too, that WE ARE FINALLY MOVED IN TO THE NEW HOUSE!!! Probably should have mentioned that before I talked about Tigger getting lost in the new house, but The Kittehs are always my top priority, as you know.
But yes, finally, finally, finally, we are all moved in. Still collecting things from the old house, but we're living in the new one, & it's AWESOME! We absolutely love it! :mayflower:   I'm probably biased, but this place is just gorgeous…& comfortable…& cat-friendly…& so easy to live in. We've still got some cleaning to do & repairs to make, but it's all part of the ongoing upkeep of home ownership, right?
And finally—& most importantly after Tigger & all The Kittehs being safe & sound—I AM HAPPY beyond belief that The Kittehs are happy here! More on that later…I've got an entire blog post planned, so you'll get all the furry details soon enough. But suffice to say that they don't miss the old house one tiny bit. :ridemturkey:
In case you can't tell, I'm so thankful for all of this that I'm almost literally Happy Dancing around the house. :turkeydance:  And I'm really hoping you're just as happy this week…or at least have a lot of your own great stuff to be grateful for. :thanksgiving:
Please share with us so we can form a conga line of Happy Dancing! Happy Dancing alone isn't nearly as fun as it sounds. :gobble:
Comments
3 Comments • Comments Feed