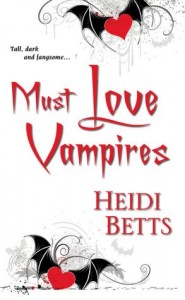 Today is the release day for MUST LOVE VAMPIRES in paperback…with the gorgeous new cover & added epilogue at the end!
Well, technically, it was released on Tuesday, but Thursdays are better party days here in The Dungeon, so I postponed this a wee little bit.  (Hey, that's my story & I'm sticking to it. *g*)
But the point is:  MUST LOVE VAMPIRES is out there!  It's available!  Ready to grab up & sink your teeth into! :yummy
If you don't yet know what MUST LOVE VAMPIRES is about, you can read the blurb & an excerpt, & even find Buy links on the MUST LOVE VAMPIRES book page!
And a big of good news—MUST LOVE VAMPIRES has made it into Wal-Mart! :dancebat    This is kind of a big deal; not all books (especially single title releases) do.  But the best part is that having it in Wal-Mart…& most likely Target, etc….will make it so much easier to find!  So keep an eye out everywhere you go!  Grab a copy as soon as you see it—remember, brand new gorgeous cover & an extra happily-ever-after after the happily-ever-after epilogue that wasn't available in the trade size edition.
Now to get fun stuff & party like the sun won't be up anytime soon! :showgirl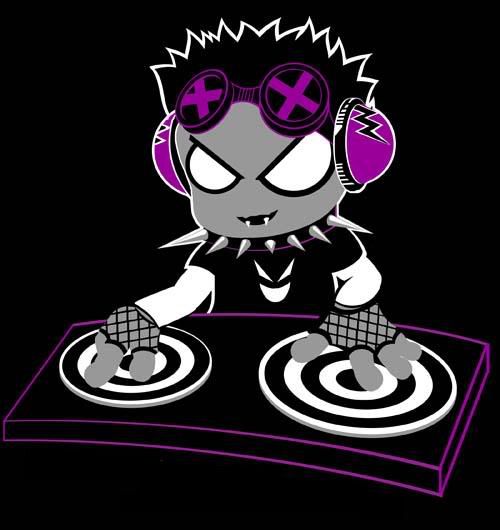 The tunes are blaring, brought to you by our very own vampire DJ.  He takes requests, but may make a few blood-related requests of his own.
The bar is open, serving cocktails even a vampire could love…
And ready, willing, & able to fulfill your every need are our sexy, half-naked Dungeon Hotties.  Now serving…everybody. :lipstick
This party brought to you by:
Kensington Brava
September 2012
ISBN 978-0-7582-4764-3
(mass market paperback edition)
LOVE AT FIRST BITE
Nightclub dancer Chloe Lamoureaux just met the man of her dreams:  Aidan Raines is charming, considerate, rich, and hot.  Of course, he's a little mysterious about his age.  And his favorite drink.  And he's not much for sunlight.  But he's asked her to marry him, and she's ready to do it. Sure, she has a few secrets too—but they'll have plenty of time to work things out while they're living happily ever after.  Right?
Her identical twin sister, Chuck, isn't so sure.  Maybe reporting for the local Bigfoot-sighting tabloid doesn't make her an expert, but to Chuck, Aidan and his brother Sebastian look like honest-to-Dracula vampires.  Especially Sebastian:  beguiling, seductive, and just a hint of dangerous.  Maybe she wouldn't mind him taking a little taste.  But with Chloe's life in the balance, she has to know—do they want hot love or hot blood?  Or maybe…a little of both?

Buy Now
Amazon :: Kindle ebook :: Barnes & Noble :: NOOK ebook
Books-a-Million :: Indiebound :: !ndigo :: Amazon.ca
The Book Depository (free international shipping)

Comments
9 Comments • Comments Feed