Today's hunk showed up a little early, but I don't think we should hold that against him. After all, if he waited until next week to wish us all a Happy Valentine's Day, he'd be too late. :VDay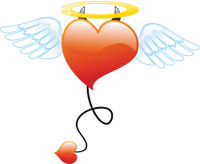 Join us on the HappyBookers YahooGroup today, where we're asking another Question of the Week" feature & would love some extra participation.
This week's question: What is your favorite love song, & why?
(Don't answer that here, though!  Get thee over to HappyBookers & post your response on the loop!)
Comments
5 Comments • Comments Feed