With a big & very exciting new release (in case you're just tuning in, that would be MUST LOVE VAMPIRES :face ) right around the corner, I have been busily putting together a giant bookstore/library mailing complete with bookmarks, shelf-talkers, & other assorted goodies.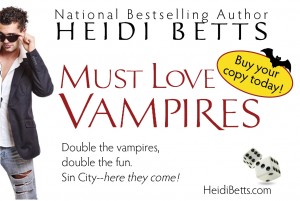 Granted, the number of stone & mortar bookstores out there these days is sadly dwindling (especially with the recent Borders closings) but I still like to hit as many of them as I can!  Libraries, too.
Of course, I can't do that if they aren't on my mailing list.  So if there's a bookstore (even used bookstores) or library near you that you think would like to receive promotional items before each of my new single title releases, let me know.
You may want to clear it with them first, but then simply contact me with with the store's pertinent information.  Please be sure to send the store's/library's name & address…the name of the person in charge of the romance section, if there is one…& the number of bookmarks they'd like to receive.
I'll take care of the rest! :jack
NOTE #1: If you are a member of my Street Walkers Street Team, this post may not apply to you.  (Although I'd be happy to send stuff to stores or libraries "near" you that you can't get to with your own Heidi-supplied bag of tricks. :tada   If that's the case, send me the info & I'll add them to my list!)
And stay tuned, because I'll be posting/contacting you very soon to get you all geared up to hit the streets for MUST LOVE VAMPIRES!
NOTE #2: If you're not (yet!) a member of my Street Walkers Street Team, you stay tuned, too.  I'll be recruiting new Street Walkers soon…explaining exactly what that is (it's not as dirty as it sounds, I swear :vamp ) & getting new tallies on promotional items so I can get your packets out to you!
This is gonna be fun! :dancingbat
Comments
10 Comments • Comments Feed