Remember the end of the movie Clue, where they say, "That's how it could have happened…"?
Well, here's how it really happened…
I knew from the very beginning that I wouldn't be able to attend Lori Foster's Reader & Author Get Together this year because, alas, I am a cat mama.  And one of my babies will be celebrating her 17th birthday while everyone else is in Ohio, having a grand old time & celebrating the fabulous release of ANIMAL ATTRACTION.
Normally, I'd try to find a pet sitter to watch The Kittehs while I was away, but though Miss Precious is holding her own at such an advanced age, unfortunately, she can't be left alone for long.  She needs special food & special medicine & constant monitoring.  And even if I convinced her veterinarian to stay with her for the weekend in my place, it wouldn't do much good—Miss Precious won't come out from under my bed for anybody but me.  I have a friend who's been to the house numerous times over the years & she's still never seen my eldest kiddo.  In fact, my friend calls her "Phantom Kitty" & often remarks that she "doesn't believe she exists." :laughingdog2
But she does!  And because I love her & want her to have the best life possibly for as long as possible, I'm happy to stay home with her, even if it cuts into any fun I might have outside of the house & makes me seem totally anti-social. :runkitty   Thankfully, Lori Foster is a huge animal lover herself (duh—look what she's doing for the Animal Adoption Foundation!) & completely understood my need to put my baby ahead of a super-fun weekend with the girls.
And for those of you who are at Lori Foster's Reader & Author Get Together right now—never fear!  I didn't leave you in the lurch.  As promised, if you buy a print copy of ANIMAL ATTRACTION at the event, is will be signed by all four authors.  Lori, Jules, & Maisey will be there to sign in person, & I sent along adorable autographed bookplates to be included with each copy sold.
For those of you who are stuck at home like I am & didn't make it to Lori Foster's Reader & Author Get Together, either, remember that you can still get the e-book of ANIMAL ATTRACTION, our wonderful collection of fun, sexy stories to raise money for the Animal Adoption Foundation's no-kill shelter!  100% of Author/Agent proceeds go to the AAF.
:loveisdogs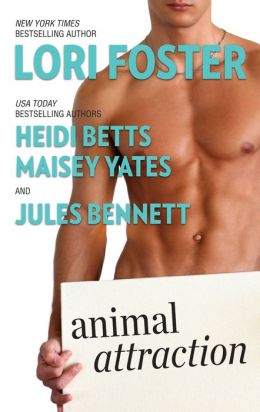 Help Animals – Buy a Copy
of ANIMAL ATTRACTION Today!
Amazon :: Kindle ebook :: Barnes & Noble :: NOOK ebook
eHarlequin :: Books-a-Million :: Indiebound ::
The Book Depository (free international shipping)
!ndigo :: Amazon.ca
Comments
8 Comments • Comments Feed